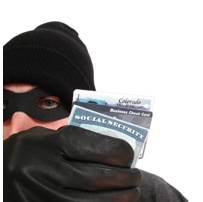 English: Busy Bee has its share of odd stories. However, this one might be the craziest. This past Wednesday afternoon, Thomas was sitting in the office minding his own business when he welcomed a woman who stopped by. The woman told Thomas that someone had been using her Social Security Number to work illegally at Busy Bee. That individual had been working for Busy Bee for nearly two years using her SSN. She was outraged. She was angry. More than anything she was pissed off. Thomas began investigating into what she was claiming. After some effort, Thomas realized that the person was Angel Colon. Working with someone else's SSN is not uncommon. Its illegal, however, many undocumented workers do it anyways. Angel Colon on the other hand, has all of his documents in order and is legal to work in this country. He pays all of his taxes like any other American, except for one thing. The SSN he has been using was not his!!!! After carefully examining the woman's SSN and Angel Colon's SSN, Thomas made a shocking discovery. They have nearly identical SSNs! The numbers are only different by one number. Angel Colon had made an honest mistake, and for two years had been using someone else's SSN by mistake. We are very glad Thomas was there to handle it, as he was able to calm the lady down. The woman came in claiming she would call the FBI and the NYPD and have our employee arrested for IDENTITY THEFT! We are very glad Thomas was there, indeed.
Po Polsku
ANGEL COLON: KRADZIEZ TOZSAMOSCI
Busy Bee zawsze dzieli się z wami dziwnymi historiami. Jednakże ta może być najlepsza.  Zeszłej środy wieczorem Tomasz siedział w biurze I zajmował się tym co zwykle. Nagle wpadła do biura nieznajoma kobieta.  Ta właśnie kobieta powiedziała Tomaszowi, ze ktoś z naszej firmy używa jej SSN a co najlepsze ta osoba pracuje już u was ponad dwa lata używając jej numeru. Była oburzona .Byla zła. Po prostu wkurzona i to strasznie. Tomasz zaczął dochodzenie w tej sprawie. Po jakimś czasie zobaczył on  ,ze ta osoba jest Angel Colon. Praca na czyjeś SSN nie jest rzadkością. To oczywiście nielegalne, aczkolwiek dużo nieudokumentowanych ludzi tak robi. Angel Colon z drugiej strony, ma wszystkie potrzebne dokumenty i może legalnie pracować. Płaci podatki jak każdy Amerykanin, poza faktem ze nie używa swojego SSN!!!! Po dokładnym sprawdzeniu obu numerów Angela I tej kobiety Tomasz odkrył cos niesamowitego. Mieli prawie identyczne numery SS. Numery różniły się tylko jedna cyfra.. Angel Colon popełnił niechciany błąd i przez dwa lata używał czyjegoś SSN na prawdę przez czysty przypadek. Jesteśmy wdzięczni Tomaszowi, ze był w stanie poradzić sobie z ta sytuacja i nawet był w stanie uspokoić sfrustrowana kobietę . Przyszła ona krzycząc, ze zadzwoni do FBI i na policje, zęby aresztowali naszego pracownika za KRADZIEZ TOZSAMOSCI .Naprawdę jesteśmy wdzięczni Tomaszowi ,ze tam był. W rzeczy samej.