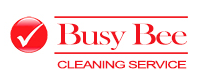 Attention Students!
Looking for a way to make some extra money for all of those extra expenses? Are you a hard working individual who has a lot to offer? Then Busy Bee Cleaning Service is the company for you!!
We are currently looking for hard working, energetic, motivated individuals to be a part of our company. BBCS is the premier cleaning company in the metropolitan area. Our level of expertise and focus on excellence, has catapulted BBCS to the forefront of our industry. We have a variety of opportunities to fit any schedule. Don't waste another minute, come joins us!
For more information regarding our company, please visit our site
&
APPLY NOW!
https://www.bbcleaningservice.com/careers.html