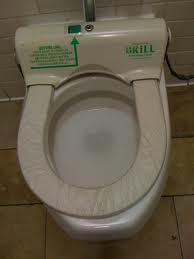 Casinos pull out all the stops when it comes to making their bathrooms pleasant, hiring commercial cleaning services or adding legions of cleaning workers to their payrolls. They whatever they can to keep gamblers coming back to spend more money. However, they are now trying to limit patron time in the restroom in order to increase their revenues. A Florida company is helping them by offering electronic seat covers.
BRiLL Hygienic Products, Inc., is based in Florida and has made electronic seat covers for toilets its primary focus. This product replaces a used plastic seat cover at the wave of a hand, using sensor technology. According to company president Alan Brill, the seat cover is designed to shorten the time that female gamblers spend in the bathroom.
Mr. Brill claims that this toilet seat saves a woman 22 seconds in the bathroom because she does not have to grab a seat cover or toilet paper and put it around the seat. Automatic toilet flushers complicate the traditional process, washing the other types of covers down the toilet before the woman has finished going to the bathroom. This increases the amount of time spent off the gambling floor, which affects profits.
The seat is currently used in 44 casinos in the U.S. and according to Mr. Brill, a self-proclaimed germaphobe, the company is "doing great." The corporate president noted that despite their best efforts, casinos can have a difficult time keeping their bathrooms "spotless," due to the volume of patrons. The BRiLL toilet seat system results in less paper on bathroom floors, making cleanup easier for janitorial services staff.
Mr. Brill equates a bathroom to "the United Nations of germs," breeding grounds for various bacteria, viruses, and infections. By converting to the toilet seat his company offers, he believes that casinos show that they care about the appearance of their facilities. The product is made in America and contributes to less littering within the bathroom.
This product is designed for bathrooms used by women because men will not gain the same benefits. Casino restrooms have been the subject of increased media attention this year, with the World Series of Poker causing quite a stir when it converted a female restroom in the main hallway of the Rio Convention Center venue into a restroom for men. A social media backlash from some prominent female players caused the restroom to be changed back to one for women.