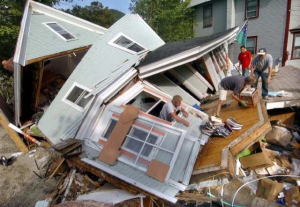 There are many cleaning services offering assistance to residents of the Northeastern U.S. in the recovery from Hurricane Irene. The company has deployed 12,000 pieces of equipment, 9,000 vehicles, and over 1,800 workers to areas most severely affected. Crews hailing from as far west as California are offering their assistance.
Cleaning companies in large cities like New York and Philadelphia were impacted by the storm themselves but are still making their staff available to help residential and business customers. Other industries are also pitching in, with Memphis Light Gas & Water sending crews to help NJ-based Public Service Electric and Gas, which had nearly 400,000 customers lose power.
Twelve states along the east coast of the U.S. experienced power outages, damaging winds, and widespread flooding. It was not until Wednesday that the water level began receding in overflowing rivers, lakes, and streams. In Vermont, 11 towns were cut off from the outside world due to floodwaters, requiring the assistance of relief crews including the National Guard. Just as they are assessing the impact, word of Tropical Storm Katia is surfacing.
As the water recedes, more damage to homes and businesses is being revealed. Cleaning companies will have their hands full in the areas hardest hit. Tasks like carpet cleaning take on a completely new meaning when fibers and pads are laden with water. To prevent mold and mildew from accumulating, cleaning workers must use special equipment to remove all water from the carpet, pad, and subfloor. This task is tedious and time-consuming but it is what they are trained to do.
Consulting firm Kinetic Analysis Corp. released a damage estimate immediately following the hurricane. It projected $7.2 billion in storm losses within Washington D.C. and eight states. Many communities are still flooded, making it difficult for cleaning services to do an effective job. This is not for lack of trying, as they are battling the water with ongoing carpet cleaning to limit damage.
It will be a long time before complete damage figures can be calculated in the affected states. As structures begin being repaired, cleaning companies are working alongside construction workers to ensure that home and business environments are as healthy as possible. We hope to never see a storm like this again but at least we know professional cleaning crews will be there to help if we do.