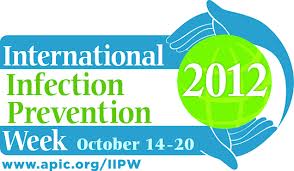 The week of October 14 is International Infection Prevention Week, a time for commercial cleaning services across the country to increase their focus on preventing infections. The timing of this event is excellent considering that it is flu season. Professional cleaning workers should take time to commend themselves on their role in helping to prevent the spread of diseases.
Special industrial chemical manufacturer ITW Dymon recently released the "3 Ps of Disinfecting" for cleaning professionals who find themselves on the front lines with virus and contagious disease prevention. Cleaners who keep the 3 Ps in mind ensure that their disease prevention efforts are effective. The 3 Ps should be top priority throughout the year, not just during this weeklong national event.
Product is the first P of disinfecting, reminding cleaning workers that they should only use disinfectants that are registered with the U.S. Environmental Protection Agency (EPA). EPA registration verifies that a disinfectant has been subject to scientific testing and is effective for its intended use. The second P is procedure, reinforcing the importance of following the correct procedure during product application. A disinfectant label features a dwell or contact time, ranging from 30 seconds to ten minutes. This represents the specific amount of time that the product must be in contact with a surface in order to kill microbes.
To remind cleaning workers that cleaning products and procedures are location-specific, place is the third P of disinfecting. For cleaning products to provide maximum results, it is important to clean the correct places. Break rooms, kitchens, bathrooms, locker rooms, cafeterias, offices, classrooms, and other high-traffic areas should be disinfected regularly. Tables, chairs, desks, lockers, benches, light switches, doorknobs, showers, toilets, sinks, the exteriors of refrigerators, and toys are several high-contact areas.
Cleaning workers should be well-versed in the differences between cleaning, sanitizing, and disinfecting, said Rich Bucher, ITW Dymon director of sales and marketing. Cleaning is the removal of stains, dirt, debris, and other visible soil from surfaces using soap and water or multi-purpose cleaning products. Sanitizing reduces the disease-causing germ count to safe levels. Disinfecting is a chemical technique that destroys harmful microorganisms including germs, bacteria, and viruses.
Infection prevention is more than just a recommended cleaning approach. It can save lives and cleaning workers, healthcare professionals, organizations, agencies, and consumers each play a role. By keeping the prevention of infection a main goal, cleaning personnel will make the three Ps a part of their daily routine.