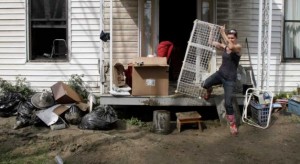 Those residing in the path of Hurricane Irene were met by wind, water, and several tornados. Being a homeowner is a scary thing when a hurricane is headed your way. For some, the results are devastating, while others are left with a bunch of yard debris and a river in the lower floor of their home. Though a wet house is less serious than total destruction, it must be addressed.
Hurricane aside, water spills and leaks are quite common. To prevent mold, mildew, and structural damage, crawl spaces, structural materials, and floor coverings should be immediately inspected and standing water should be promptly removed. Some commercial cleaning services specialize in this task, making themselves available 24 hours per day, seven days per week.
A wet/dry vacuum is a good tool for removing standing water. Fans and dehumidifiers assist in the task, making the work of the homeowner much easier. After the standing water has been removed, the structure must be dried thoroughly to keep mold or mildew from growing and to prevent moisture damage. Just because a surface looks or feels dry does not mean it is. Commercial cleaning services use equipment like a moisture meter to identify the presence of moisture on and below surfaces.
Increased moisture present in the air following an indoor flood may result in secondary damage to artwork, books, decorative wood, and other items. Proper drying and dehumidification are required to prevent this. An air mover draws moisture from wet surfaces and evaporates it in the air. Dehumidifiers draw moisture from the air, draining it to the sink or a receptacle.
Carpet cleaning immediately after a flood is imperative because carpet is a breeding ground for mold and mildew. Carpets that were underwater for at least 24 hours should be discarded. Area rugs and carpets should be taken outdoors and hosed down with water. If the carpet is not nylon or wool, a solution of one gallon water and two tablespoons bleach will discourage mildew from developing. Wall to wall carpet should be dried with a wet/dry vacuum and a dehumidifier.
Fans assist in carpet cleaning by circulating air over the carpet. If possible, carpet should be lifted and fans used to ventilate the area underneath. If floor tile or vinyl flooring is installed over a wood subfloor, it may need to be removed so the subfloor can dry. Wood floors should be gradually dried because sudden drying may result in splitting or cracking.