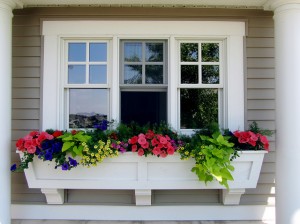 As summer gets closer, I can't help but want to brighten my home with a new, clean look. The colorful flowers, shining sun, and smells of cut grass are all so fresh that I want to bring those feelings and smells inside. Sure, I would love to remodel, buy all-new furniture, and pay an interior decorator to give my home a makeover, but it just isn't in the budget – or realistic every year. The good news is, you don't have to empty the bank to freshen up your home. With a little paint here, a few plants there, and a touch of cleaning everywhere, your home will feel like you're breathing that clean summer air inside. Try these seven easy tips to make your home smell and look fresh.
A New Coat of Paint
If your walls are feeling drab, grab a bucket of paint and either add a new color or a new coat of the same color over dingy or dirty walls. Paint can get expensive fast, but if you aren't set on an exact color, you can find discount paint in colors that people returned. I have also bought leftover buckets of paint off of Craigslist from builders needing to get rid of excessive supplies. Paint is an inexpensive but drastic way to change a room.
Add Lighting
Make your own light, refinish an old fixture, or buy a completely new one. Adding lights to a room can make a huge impact on a space but also brighten up dark areas.
Unclutter a Space
The number one thing you can do to freshen a space without spending a dime is to get rid of all of the excess stuff. Take out any clutter and donate items you no longer use. Your room will have the crisp, clean look that summer always brings.
Rearrange Furniture
This is something I do often. There is something about moving furniture around that gives a room a completely different look. Many times I have switched couches and tables in a room and had visitors exclaim, "This room looks amazing! Did you buy new furniture?" It also gives you the opportunity to clean behind and below heavy pieces you don't move regularly.
New Plants
Everywhere I go, there are plants and flowers for sale. Buy a few annuals and perennials and place them in your kitchen window and on the center of the table. Larger plants are great for living spaces and add a decorative element while bringing fresh breathing air into a room.
Organize a Room
Whether it is an office or kitchen, there is always something that needs to be organized. Buy some new containers, labels, and markers and get ready to label away. Organize drawers, and sort through those items that have been lingering in the wrong spot. It is an easy way to lessen stress and make your home look and feel clean.
Add a Couple of Bright Decorations
Buy a couple of pillows, a throw blanket, rags, rugs, or towels for rooms in the home. A little bit of your favorite color can go a long way in a space. I love walking into my family room when the room feels bright and has colorful accents scattered along the shelves and couches.
It really is amazing what cleaning and a few decorations can do to a home and the positive impact they have on your mood. After a good scrub of my entire home, I feel an excitement similar to the first time we moved in. I get the energy to keep it continually clean and happiness from just being indoors. I have already started adding color, organizing drawers, and donating items to polish my home for summer. What have you done to freshen yours?
Image Courtesy of Rachel Kramer (Flickr)