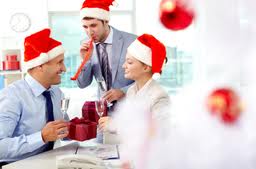 It is difficult to believe that another holiday season has arrived. It seems like we were just shaking sand out of our flip-flops. Holiday shopping is already in high gear and holiday party invitations have been sent. This makes it prime time to establish a holiday cleaning plan. Holiday building maintenance involves more than removing slush, snow, and ice melt residue from facility floors. It also requires holiday decoration and party cleanup and help may be needed.
The holiday season now extends from Thanksgiving until New Year's Day. Companies and schools swap turkey decorations for Hanukkah, Kwanzaa, and Christmas décor. Cleaning professionals must maneuver around Christmas trees, nativity scenes, and electric candle displays. Fallen tinsel, garland, glitter, and artificial snow must be removed from carpets so it will not be tracked throughout the building.
Even a clean surface appears unattended when it is filled with glitter, faux feathers, or pieces of Santa's beard. It takes cleaning workers extra time to remove this debris. This is before they tackle the remnants of holiday parties, which can be spread throughout an office. Food ground into carpets, wrapping paper in the corners of floors, and more than one broken ornament are the typical aftermath…on a good day.
Holiday parties are not the main events that cleaning workers must contend with during these months. This season is the typical time for performing annual cleaning tasks. Many companies close for extended periods and corporate employees often take vacations, making it the perfect time to strip and refinish hard floors, clean carpets, and wash interior windows. With fewer people to work around, these tasks are easier to perform.
All of this keeps cleaning staff quite busy and with reduced corporate and building budgets, there may be fewer cleaning workers this year. Having an outside company assist with building and office cleaning during the holidays reduces the burden on in-house staff. No one wants to work 24-7 throughout the holiday season and the extra assistance prevents this from becoming necessary.
By collaborating on office and building cleaning tasks, cleaning staff and outside cleaning companies keep the building and occupant spaces spotless throughout the holiday season. Tenants will think that Santa sent his cleaning fairies to take care of things. Once things get back to normal on January 2, in-house janitorial workers will reassume primary responsibility for keeping things clean until next holiday season when the fun will begin again.