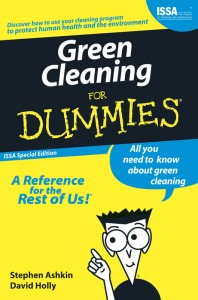 The upcoming ISSA/Interclean North America trade show is all the talk these days in the cleaning industry. This premier cleaning industry show will take place at the Las Vegas Convention Center from October 18 to 21. More cleaning workers are expected to attend the show, but industry executives expect it is for reasons other than training.
Some, like The Ashkin Group President Stephen Ashkin, believe increased worker attendance is designed to help educate customers on environmental responsibility with cleaning practices. Green cleaning has yielded an unexpected benefit of increasing public regard of cleaning workers and cleaning services. In specific terms, it has made people aware that cleaning is important to staying healthy.
It is not unusual for building managers to rely on building maintenance personnel to make their facilities healthier. Cleaning professionals have in-depth knowledge regarding the facility cleaning needs and are aware that many traditional cleaning solutions negatively affect our health. They are helping facilities that always wanted to be more eco-friendly to do so in an organized fashion. In other industries, results from a Material Handling Industry of America survey indicate that 79 percent of logistics and material handling managers had or were planning to institute sustainability goals, to which green cleaning contributes.
Building managers are often not aware of what makes cleaning services, products, equipment, or chemicals green. Cleaning workers are and they use the most eco-friendly products, equipment, and methods. Building managers advertise their green cleaning practices to existing and prospective tenants, using it as a selling point. Many businesses would much rather make their home in a building that takes an eco-friendly approach to cleaning.
Aside from the positive environmental impact, green cleaning has other benefits. One that is readily visible in the bottom line is the reduction in building operating costs. In turn, this leads to lower rental charges for tenants. Green cleaning undertaken by building maintenance staff can also help extend building life. Construction costs can be exorbitant, making it desirable to keep a building in operation as long as possible.
As the role of cleaning workers continues to change, more business and residential customers will seek their advice regarding eco-friendly cleaning practices. The public is beginning to understand that green cleaning makes sense and they are asking for it from their cleaning professionals. It will not be surprising to see more cleaning companies include green cleaning in their standard service offerings within the next few years.