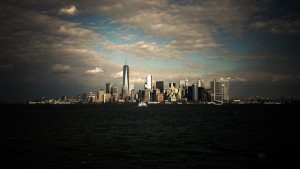 Touring homes and apartments is one of my favorite things to do. When I start daydreaming of winning the lottery, I pull up a real estate site and browse through the most expensive apartments I can find in New York City. I drool over the floors, walls, lights, kitchens, the views from their windows, and even the toilets. While I will never own one of these luxury places, I can still dream about walking in one. Exactly how expensive are these apartments? Well more than any amount of money I will make in my lifetime. Apartments range from $40 million to more than $100 million, and you'd better believe that celebrities, professional athletes, and CEOs jump at the chance to live in these luxury buildings. Denzel Washington and baseball player Alex Rodriguez are said to live in $40 million apartments. You can find these apartments by Central Park, throughout the city, and on "Billionaire's Row" of West 57th Street. Now, to give you an idea of what millions of dollars can buy you, here are seven of the most expensive apartments in New York City.
15 Central Park West
For those who call this complex home, they get treated to a swimming pool, 14,000-square-foot gym, and a cinema. The view of the city from the windows is beautiful, but having all of Central Park right at your doorstep makes for the biggest yard and garden one could dream up.
145 Hudson St., Penthouse
This penthouse is probably my favorite on the list. The price might be a whopping $48 million, but the entire place is lined with glass. Everywhere you look are windows, and it adds to the sleek, modern feel. A parking space comes along with this place, and as all New Yorkers know, that is a rare thing to have.
944 Fifth Ave.
This apartment was built in 1925, and with 18 rooms, it has that old-fashioned style. It covers an entire floor, allowing for views of the city at every angle. Need room for guests? No problem: This apartment has an entire separate living quarters for guests.
One57
This is one of the newest complexes in New York City and has sold a penthouse for a record-breaking price of $90 million. Yikes! The kitchens are a dream to any chef, the bedrooms are wrapped in windows, and the bathrooms are finished with only the finest materials.
25th East 77th St.
Located on top of the Tony Mark Hotel is a penthouse that screams luxury. The moment you walk through the door, you will be greeted with 26-foot ceilings in the living room. If that doesn't impress you, then the skylit conservatory and elevator will.
157 West 57th St., Penthouse
Drive on West 57th Street and you will be impressed by many billion-dollar buildings; you can also find this penthouse, with a price tag of $115 million. With 13,554 square feet, there is plenty of room for the biggest of families. You can fit grandma, her ten kids, and your cousins and uncles inside, too. The outside of the building has a rich, modern look and is a small taste of what's inside. Everything is outfitted with only the best, and if you are short on cash, there are apartments on lower levels for only $55 million; that's almost an affordable price, right?
1 Central Park South, Eighth Floor
This gigantic condo sits on top of the Plaza Hotel and is laced with thick moldings, exquisite floorings, and bathrooms you could only dream of. For $55 million, the views, separate area for staff, and 11-foot ceilings complete this package.
I know my feet will never know such fine floors and my body will never experience these luxuries, but if I close my eyes, I can almost imagine what it would feel like to stand in a window of one of these apartments. My imagination leads me to believe that it would be magnificent.
Image Courtesy of Roman Iakoubtchik (Flickr)