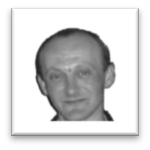 Uninvited Guest
By Ricky Rezmer
 English: One thing is quite understandable: If you knock on your friend's door without prior notice, and they do not have time for you, or simply they do not like your company, they will try to make up a number of invented stories as to how busy they are in that moment. What's worse is when you see a grimace on their face, that makes you feel stupid and it leads you to shorten your visit as much as possible! This is part of everyday life.  But something's in life sometimes are a mystery.
Take DQM for example, it is a small shop on the 3rd street, which I clean every other Friday. They sell shoes, shirts, t-shirts, skateboards, and the likes for all kinds of youth.
First Case: As always, I log in to Clockspot before I open up the store.  Opening up the store takes me a while because the key often jam; I always get scared to lock the door when I'm inside because I usually have problems getting out. First, I try to open the safety bars, but no matter how hard I try it does not want to open. I try for half an hour without success. So I am still waiting half an hour for someone, hoping that someone will remember that Busy Bee is cleaning their store today. As it turned out lock was changed, and no one bothered inform us. So I had to go on two journeys for 3rd street (one to retrieve a new key, and the other to clean the space). But I didn't mind because that is what you have to do for the good name of our company!
Second Case: The next time the there were no problem with the keys, thankfully, so I get ready to start and I deactivate the alarm. When I'm finished it starts to ring like crazy.   I panic and push whatever I can to turn it off!! Anyway, I'm pressing buttons as if I'm blind because I don't understand half of the characters or English words on it. The phone rings, and it is the alarm company! They tried to help me, but you know that when it comes to such situations my English is no good. So I'm trying to do what I'm being over the phone, the woman tells me to press TIU! So I ask her what is TIU? As you know, when a blind man leads another blind man they both fall into the pits! But eventually the alarm stopped. It took maybe 10 minutes, and when I am in the middle of vacuuming, and the damn thing turns on again! The company calls and they tell me to press TIU again, but this time it does not help. So hearing this noise the police enters the store to see if there is a thief, and wants my name, date of birth, company name…. I ask the cop if she knows anything about alarms because I have lost a lot of time already, and I have to go to the next job and do not have time to chat! Unfortunately, she says no, and does not help, but the alarm stops, so I quickly get ready to run to next job, but then phone rings again.  Of course I do not normally pick up the phone, but this time I feel that it is for me! It is the owner on the phones and he asks what I was doing in his shop?
……See how Ricky gets out of this dilemma in next week's newsletter…
 Nieproszony Gosc
By Ricky Rezmer
Po Polsku: Rzeczą całkiem zrozumiałą jest jeśli zapukasz do znajomych bez uprzedzenia , a w zasadzie to nie bardzo mają w tej chwili dla Ciebie czas albo po prostu wcale nie przepadają za Twoim towarzystwem , więc podają szereg wymyślonych na poczekaniu powodów , że właśnie teraz są szczególnie zajęci albo widzisz znaczące grymasy niezadowolenia na ich twarzy, że zaczynasz się głupio czuć i Twoją wizytę skracasz do maximum! To całkiem znane przypadki z codziennego życia .
Ale ,że rzeczy martwe nieraz do człowieka przemawiają -to już zagadka.
DQM-mały sklepik na 3rd str ,ktory sprzątamco drugi piątek.Buty,koszule,koszulki, deskorolki i wszelki asortyment dla niezamożnej młodzieży…
1-wszy przypadek —- Jak zawsze loguję się przed wejściem,bo otwarcie tego sklepu zajmuje mi trochę więcej czasu,gdyż klucz się zacina,tak że gdy jestem w środku boję się zamknąć , bo potem znowu mam problemy z otwarciem.No więc próbuję,a klucz do kłódek, aby otworzyć kratę zabezpieczającą drzwi w żaden sposób nie chce wejść.Męczę się tak z pół godziny i niestety nic nie wskórałem.No to czekam jeszcze z pół godziny na kogoś,a może sobie przypomni ,że dzisiaj serwis busy bee.Jak się okazało wymienione zostały klucze,a nikt się nie pofatygował nas zawiadomić.Więc znowu czekają mnie kolejne dwa kursy na 3rd str(jeden by odebrać nowy klucz ,drugi aby sprzątnąć) No ale cóż się nie robi dla dobrego imienia naszej firmy!
2-gi przypadek—-Następnym razem z kluczami już nie było problemu,wchodzę i jak zawsze idę wyłączyć alarm.A tu jak nie zacznie wyć, no to wpadam w głupawą panikę i naciskam co się da,aby wyłączyć! Zresztą naciskam jak ślepy,bo połowy znaków i angielskich słów nie rozumię.Dzwoni telefon-serwis od alarmu! Próbują mi pomóc,ale z moim angielskim w tak poważnych kwestiach? Więc robię co mi każą,a babka do mnie press TIU! No to pytam się -co to jest TIU? Jak wiecie,gdy niewidomy prowadzi niewidomego to obaj w dół wpadną! Ale w końcu ucichł.Minęło może z 10 minut-jestem w połowie odkurzania ,a to cholerstwo znowu wyje,ta znowu dzwoni z press TIU, ale tym razem nie pomogło.I na ten hałas wpada policja sprawdzić czy nie ma złodzieja-nazwisko,data urodzenia,kampania….A ja pytam się policjantki czy może zna się na alarmach,bo straciłem już dużo czasu ,a tu jeszcze nic nie zrobione i zaraz muszę lecieć do następnej roboty i w ogóle nie mam czasu teraz na pogawędki! No niestety nie pomogła,ale alarm sam ucichł-to ja szybciutko do roboty. A tu znowu telefon-wiadomo normalnie nie odbieram,ale tym razem czuję,że to do mnie! Dzwoni właściciel i pyta się co robię w Jego sklepie?
… Zobacz jak Rysiu wychodzi z tego dylematu w przyszłym tygodniu newslettera …