English:
You notice that your Busy Bee shirt is looking really old and has wholes in it. You alsonotice, that you have not shaved in about a month and your beard is getting really long and rugged. You also notice that you smell quite a bit. What should you do?
A-      Call the office at a reasonable time and tell someone about your shirt. As it turns out, no one should get a chance to see your hairy body through little holes in it. No one wants to see that!! I mean unless you have a really great body. But that's a conversation for another day!!!
B-      SHAVE THAT STUPID LOOKING GOTIE OFF!!! You probably look something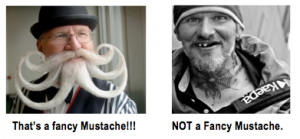 between a character in the "Lord of the Rings" and Santa Clause. Either way its time to get rid of all of that scruff! Unless you have one of those pointy mustaches you twirl on the ends. Now those are fancy!
C-      Have you heard of a shower? Start there. If that doesn't seem to work, try a bath. If that fails, maybe some holy water? Smelling at work is just not acceptable. I mean who likes the smelly guy on the subway train. Don't be the smelly guy on the subway train!! I repeat, DON'T!!!!
D-      Forget about it!!! Let your man stink and beard hang out! Not to mention rips in your clothing are wayyyyyy considered fashionable! I saw the "Tommy Hilfiger Fashion Show". Ripped jeans are back baby!!!
The correct answers are: A, B and C!!! Yes three correct answers! Being clean and tidy is part of being a cleaner. How can you convince a client that you are a good cleaner if you can't even keep yourself clean? How do you think it looks for the company when you go into work looking like the homeless guy that lives in central park? I mean he is a nice guy but still… STAY CLEAN AND WELL DRESSED!!!!
Po Polsku:
What would yoou do?/ Co bys zrobil? Busy Bee edycja:
Zauwazasz ,ze twoja firmowa koszulka jest brudna i zauwazasz w niej dziurki. rowniez zauwazasz,ze nie chialo ci sie ogolic przez ostatni miesiac a twoja broda jest na prawde zapuszczona. rowniez zauwazasz ze twoj zapach nie jest taki jaki byc powinien.. Co robisz??
A:Zadzwon do biura w odpowiednich godzinach i zglos komus problem z koszulka. Nikt nie powinien widziec twojego owlosionego ciala przez te dziurki. i  nikt na pewno nie chcialby tego widziec chyba ze twoje cialo wyglada super. ale to jest temat na inny dzien.
B:Zgol ta glupio wygladajaca brode . zapewne wyglasz jak ktos powiedzy charakerem z "Lord of the ring a Swietym  Mikolajem. jednakze to jest wlasnie ten czas na pozbycie sie zbednego balastu. chyba ze nosisz taka super zagrecona brode, ktora wyglada modnie.
C:Czy kiedykolwiek slyszales o czyms takim jak kapiel ? zacznij od tego jesli to nie podziala moze troche swieconej wody? Nie badz tym smierdzacym facetem na stacji metra , przeciez nikt ich nie lubi.  tak po prostu nie badz!
D: Zapomnij o tym . po co sie przejmowac swoim wygladem albo za dluga broda . poza tym dziury sa dzisiaj bardzo modne jak to mozna zobaczyc w katalogach mody. podarte jeansy wrocily.
Poprawne odpowiedzi to A, B  i C !!! Tak trzy poprawne odpowiedzi. prezentacja jest nawazniejsza rzecza w pracy osoby sprzatajacej. Jak przekonasz klienta ze dobrze sprzatasz skoro nawet nie potrafisz utrzymac siebie w czystosci??Myslisz ze jak to wyglada dla biura dla ktorego pracujesz jak chodzisz do pracy wygladajac jak bezdomny zyjacy w Central Parku.STARAJ WYGLADAC CZYSTO I SCHLUDNIE!!!!