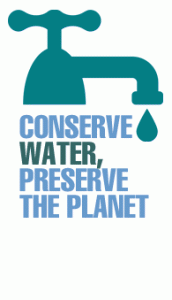 Environmentally friendly cleaning means more than just using "green" cleaning products. It is also about conservation and this goal is often more difficult to achieve. Water is vital for human life and is also used for recreational and cleaning purposes. States like Texas are experiencing the worst drought in decades, making it essential for residents to be more responsible when using water.
Texas and other drought states are not the only ones focusing on water use. The entire country has made water conservation a hot topic, due to the limited amount of this essential resource. Cleaning services is just one of many industries that must take drastic measures to reduce the amount of water consumed. Cutting back on water consumption now helps ensure that an ample supply will be available for future generations.
One of the most widely promoted water conservation tips regarding cleaning is to use microfiber cloths and mop heads. According to a study conducted by the University of California, microfiber cleaning products clean effectively while drastically reducing water use. Though they cannot be used on carpets, heated extractors can. The heat makes the cleaning chemicals more effective, requiring the use of less water and chemicals.
Carpet extractor wands that feature atomization technology are another water conservation tool. The science behind them results in less water being released into the carpet. A recycling carpet extractor, which recycles cleaning solution, is another smart choice. By recycling solution as much as seven times, the tool significantly decreases the amount of water consumed when cleaning carpets. When scrubbing hard floors, workers should use low moisture machines that consume less water than traditional versions.
Cylindrical floor scrubbing brushes are even more effective at conserving water. Instead of using rotary pads, they use brushes to clean the floor. Studies have revealed that these use less chemicals and water. If a commercial kitchen floor is really dirty, high-pressure systems should be used rather than a garden hose. These combine water with air for improved cleaning efficiency. A garden hose consumes between six and 20 gallons of water each minute.
Auto dilution cleaning systems reduce the amount of chemicals and water wasted. These automatically dilute concentrated cleaning solutions with water. With the foam version, compressed air  is used to create a thick, rich foam. Autodiluting chemical dispensers make it easy for cleaning services workers to dispense diluted solutions into containers like buckets and spray bottles.