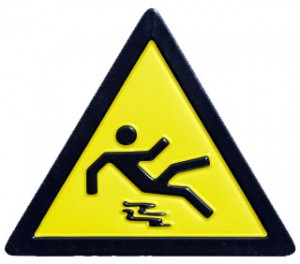 In 1999, a Florida Walmart customer who slipped and fell on spilled body shampoo was awarded $1.3 million for injuries. Walmart was found negligent because it did not promptly clean up the spill and did not keep the store in safe condition. Though this is one of the higher verdicts, slip and fall awards of hundreds of thousands of dollars are common.
A slip and fall incident can happen at any time, anywhere, and can result in serious injury. Janitorial services workers must address dangers as these present themselves. At the same time, they must be cautious regarding false claims, which frequently occur when limited surveillance is present. Fraudulent claims in stairway, corridors, and restrooms are common. Additional staff and surveillance cameras may not be options so workers must take other steps.
Diligent maintenance, excellent training, and thorough documentation are the first steps to preventing slip and fall incidents. Building maintenance should focus efforts on both the inside and outside of the facility because a slip and fall can occur in either area. By touring the facility frequently with a co-worker to identify problem areas, potential dangers can be addressed. What one person misses, the other will most likely notice.
Janitorial services staff should keep floors dry, clean, and free of debris. Ice, snow, and other slipping hazards should be removed from sidewalks. As soon as damage appears in a parking lot, sidewalk, or other walkway, it should be repaired. Any area of the building offering public access should be regularly inspected and maintained. All maintenance and cleaning tasks should be documented and a floor maintenance and safety procedure should be developed and enforced.
Building maintenance should invest in mats to keep the facility safer and cleaner. Placing mats at the entrance to the building prevents water, dirt, and debris from being tracked into the building. Installing an outdoor scraper mat at exterior doors and a wiper mat inside the door is recommended. Keeping floors cleaner is not only a safety practice, it also reduces chemical and labor costs.
Mats should stay flat so they will not buckle and mats that are National Floor Safety Institute certified as high traction are the best for this purpose. The American National Standards Institute will also soon be releasing a national standard regarding floor mats. In addition to keeping mats flat, workers should ensure that mats do not move from their intended location.