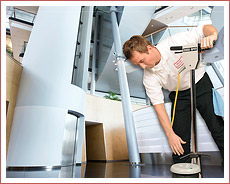 Commercial cleaning services perform the tasks that office workers cannot do because of lack of time or desire. They clean and maintain facilities of all sizes and deal with nearly any industry imaginable. In addition to daily janitorial services, commercial cleaners perform specialized duties like floor waxing and power washing. Whether the company works locally or nationally, it employs the most skilled individuals to handle the cleaning and maintenance duties of any organization.
The most reputable cleaning companies carry full insurance and employ only licensed personnel. This protects clients from damage or theft of their property and equipment. Before performing any services, a representative visits the client site to assess and discuss the type and extent of janitorial services needed and the frequency of visits appropriate for completing the job. Clients are provided with a complete picture of what the cleaning service will do and when it will do it.
As part of their basic cleaning duties, most commercial cleaning services include trash disposal, vacuuming, mopping, light dusting, bathroom maintenance, and washing interior windows. A small company with 25 employees or less may only need these services two or three times weekly. Large organizations or those with frequent customer visits might require daily cleaning.
Some companies request cleaning multiple times per day because they operate at all hours. Porters may be on site during the standard daytime hours and a cleanup crew might take over during the evening. A reputable cleaning service provides workers able to handle the client facility, whether it be a traditional office, warehouse, or manufacturing site. Some industries, like healthcare, have specialized requirements for cleaning. Cleaning company staff must be trained in handling biohazardous materials or working in cleanrooms or other environments.
When a specialized service is required, the project may take longer than a few hours and requires specially-trained staff. Washing exterior windows, power washing, waxing and buffing floors, and cleaning specialized equipment are just a few examples. Care usually must be taken not to disturb employees or work areas, making proper scheduling important.
Most cleaning companies require a written contract for services. Some will not provide specialized services unless a business already has a basic cleaning contract. If a business needs a one-time-only cleaning, some shopping around might be required to find a vendor. In most cases, office cleaning is an ongoing arrangement that works best when the cleaning company and business client view each other as partners.