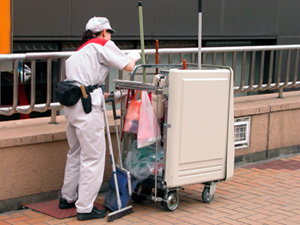 Nightly office cleaning is not enough for some high-traffic businesses. These organizations need cleaning throughout the day or the area will look messy by lunchtime. A day porter service is one solution because it allows trash and debris to be removed as they appear. It also keeps common areas sparkling clean throughout the busy workday.
Daytime janitorial services like this enable the largest businesses to maintain their professional appearance all day. With porter services, restrooms are monitored so that there is never a lack of supplies like toilet paper and paper towels. Spills are immediately handled and the trash is emptied throughout the day. Keeping a multi-stall restroom clean is no small task but porters do it with ease, creating a facility that is as clean and stocked at 5 PM as it was when workers arrived in the morning.
Lobbies and foyers are the first things people see when entering a building. To convey a positive initial impression, these areas must be kept clean. Daytime janitorial services remove trash and clean up dirt and other debris that accumulate as people travel through these locations. Porters also remove trash and debris from the outside of the building so the structure looks attractive from outdoors.
Large companies often have a kitchen and some office buildings even have a cafeteria. Introducing food into the equation adds lots of opportunities for spills, stains, and other incidents that affect the cleanliness of a structure. Porters keep these dining areas clean so workers and visitors will not opt to eat elsewhere. This is important from both appearance and health standpoints.
Porters also maintain outdoor patios and indoor common areas such as hallways. On sunny days, workers and visitors often spend their down time outside so patios and other outdoor seating areas should be kept clean. People move through hallways on their way to offices and conference rooms, making these common areas magnets for dirt and trash. A porter assigned to these locations keeps access ways clear of debris so traffic can flow.
Whenever a company finds that regular office cleaning is not sufficient, it should explore using a porter service. This arrangement is especially attractive for facilities with 24-hour operation. Porters ensure that bathroom supplies are ample, common areas are clutter-free, and dining spots are clean, no matter what the shift. They handle both outdoor and indoor cleaning tasks, keeping the structure looking great from all vantage points.