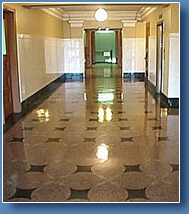 Commercial cleaning services do more than just empty waste cans and scrub toilets. Floor cleaning is another important responsibility. Whether it involves vacuuming, mopping, or polishing, workers are skilled at handling the floors. They use tried and true techniques that make any floor surface look like new.
Whether the contract is for residential or office cleaning, taking care of the floors is often included. A heavy-duty floor cleaner they recommend for concrete, slate, flagstone, glazed and unglazed ceramic tile, and asphalt combines one cup ammonia, ¼ cup all purpose cleaner with low sudsing, and ½ gallon of cool or cold water. The solution is applied to the floor using a sponge mop and then the floor is rinsed with cool water and dried. This is a strong cleaner so if you are unsure if the floor can handle it, test on a small inconspicuous area first.
Ceramic tiles are commonly used to create bathroom flooring. Unglazed ceramic tile floors are sealed using a commercial sealant and water-based wax. During the bathroom portion of office cleaning, workers do not use abrasive cleaners because these could scratch the glaze. If the tile is unglazed, they do not clean it with abrasives, strong soaps, or acids. Instead, they damp mop using an all-purpose cleaner and dry with a soft cloth to prevent any streaking.
Linoleum floors are frequently encountered by commercial cleaning services when they handle office kitchens. Adding a cup of vinegar to the water in the bucket ensures their mopping brings out the shine in the floor. Fine grade steel wool dipped in liquid floor wax is perfect for removing heel marks. After the spot is rubbed gently, the area should be wiped it with a damp cloth to remove excess wax.
No-wax vinyl floors are the easiest for these professionals to handle. A synthetic scouring pad can be used to scrub off heel marks. An all-purpose cleaning solution is adequate for mopping and a cup of white vinegar can be added as well. Old vinyl floors can be refreshed with two coats of self-polishing floor finish.
When the floor is cleaned regularly using the proper techniques, customers and other visitors will be so impressed, they will ask if new flooring was just installed. Keeping the floor free of debris and spills improves safety and cleanliness. The professional and sanitary environment will impress even the harshest critic, whether it be a customer or the owner of the company.