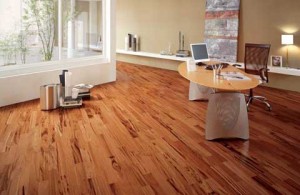 Building maintenance workers spend more money and time on caring for floors than cleaning any other area. To make a positive impression on visitors and keep occupants healthy, they establish a program of dusting, vacuuming, and both damp and wet mopping. When it comes time to strip, refinish, and seal hard floors, they either perform the task themselves or use commercial cleaning services. By adjusting the cleaning schedule to meet the needs of facility, the building can save money.
Planning, specialized training, adequate staff levels, and the proper equipment and chemicals are required for floor care. Problems result when building maintenance is subject to a tight budget or has few workers to dedicate to the task. Once the staff is identified, training is not that difficult and is similar to the process of educating a restroom cleaner. When professional cleaners are used, no training is required because their employer has already provided it.
For a commercial building, correctly cleaning the floors is not enough. The project must be completed in a timely manner and without any unnecessary disruption to workers and visitors. Many maintenance departments plan major floor care projects well in advance and provide notice to building occupants and visitors. For ongoing floor care, a system that issues reminders to perform certain tasks and allows workers to track completion is recommended.
When floor stripping is necessary, occupants may be asked to remove personal items from the floors. Maintenance will need to move furniture and heavy equipment out of the area temporarily. Scheduling these moves at a time convenient to building occupants is essential. In many cases, the work is performed overnight so occupants experience no down time.
Commercial cleaning services usually include schedules regarding regular and restorative floor care in their contracts. A review of the contract and discussion with the provider will reveal whether the schedule should be altered. When floor care is performed too frequently, the building throws money out the window. If it is not done enough, the appearance of the building suffers. Using outdated equipment or cleaning solutions decreases cleaning efficiency, increasing costs.
Maintenance leaders should determine which floor care equipment, chemicals, and cleaning schedules are best suited for the facility. If a vendor provides floor cleaning, it works together with the commercial customer to determine these aspects. By adjusting the cleaning schedule and increasing efficiency, a building can realize substantial cost savings on floor care.