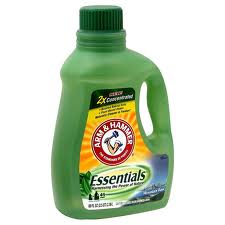 We can find cleaning products at almost any store, from a dollar store to the supermarket. It is natural instinct for some of us to pick up the cheapest items available for the job. Doing so can actually expose us to harm in the form of chemicals that permeate the air and our bodies. When we want to clean our homes but also have a concern for the environment and ourselves, we look for products that contain plant-based ingredients.
The experts at Good Housekeeping tested 23 eco-friendly cleaners and found the best. These included laundry detergents, all-purpose cleaners, and dish soaps. Only five products survived the rigorous testing imposed by the Home Appliances & Cleaning Products department at the magazine. Each of these is effective at cleaning, yet safe for us and our surroundings.
Arm & Hammer Essentials 2X Concentrated was the top pick for laundry spot removal. This product was notably excellent for cold water washing. Purex Natural Elements came in a close second and costs about half per load of the other brand. Use either of these and common stains like blood, ink, coffee, wine, mascara, and grape juice will quickly come out of clothing.
Planet Ultra Dishwashing Liquid was the best eco-friendly hand dishwashing soap tested, removing dried-on particles and cleaning the most plates per use. In the category of all-purpose cleaners, Sun & Earth All Purpose was tops at cutting through grease. Clorox Green Works Natural All-Purpose Cleaner was also excellent and features a lower price tag.
When super-strength green cleaning products are needed, look no further than Simple Green All-Purpose Cleaners. This concentrated solution should be diluted as necessary for cleaning concrete floors and barbecue grills. Spraying cleaner on a reusable microfiber cloth rather than a surface will use less solution and eliminate the need for wasteful paper towels.