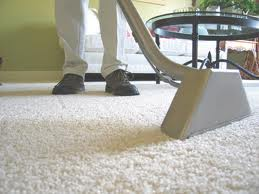 When building managers hire a professional to perform carpet cleaning services, they often do not realize what it takes to get their carpets clean. The Institute of Inspection, Cleaning, and Restoration Certification includes several steps in the mechanical or technical process of cleaning carpets. These are: dry soil removal, soil suspension, suspended soil removal, grooming or finishing, and drying.
Most people are familiar with dry soil removal using a vacuum but soil suspension and removal may be foreign topics. Soil suspension is arguably the most important step in the cleaning process. If soil cannot be loosened from carpet fibers, the result will be less than impressive. Chemical pre-spray cleaning products make it easier to remove soil from the fibers and time, temperature, and agitation complement the pre-spray results.
The hottest water available should be used with an electric or pump sprayer. As heat is lost, time and agitation should supplement it. A rotary extraction tool, rotary machine, or counter-rotating brush machine makes agitation easier. After being treated with pre-spray and agitated, the carpet should be provided some dwell time so the pre-spray can suspend and emulsify soil. Traditional pre-spray dwell time is between five and 15 minutes, while eco-friendly or enzyme pre-sprays may require more time.
The degree of soil suspension determines the results of soil removal. Hot water extraction is the most common process, with a mechanical tool or light wand used to rinse suspended soil. The wand handle is designed to help with placement, not the add force or serve as a leaning post. Attachments may be added to improve rinsing efficiency. A single pass with the wand is usually sufficient to remove light soil, while two or more passes may be required for a more heavily soiled area.
High water pressure provides more water to the carpet, requiring additional dry stroking. Most cleaners use a pressure of approximately 400 psi. When a mechanical extraction tool is used, pressure is adjusted to match manufacturer recommendations. Instant vacuuming is the second step in the rinsing process. Dry stroking removes the majority of the rinse solution, shortening drying time.
Proper suspension and extraction of soil are required to make carpets as clean as possible. Professionals are trained in the techniques required to achieve the best results the first time. By approaching carpet cleaning as a process, they make the area look like new. Regular carpet cleaning is essential to maintaining a welcoming appearance in a commercial environment.