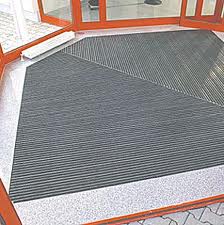 Facility managers and building maintenance workers should put careful thought into selecting and placing entry mats for the building. Choosing the right type of mat and installing it in the correct location help keep a building healthier and cleaner. This also reduces facility cleaning and maintenance requirements, keeping the building cleaner longer and extending its lifetime.
A common mistake is to choose an entry mat that is not large enough to trap debris and moisture deposited in the area when people enter the facility. According to the Carpet and Rug Institute, a typical building entry should feature between 12 and 15 feet of matting. A hospital or supermarket may require 20 to 25 feet to keep the facility safe and prevent debris from reaching interior floors.
When shopping for entry mats, facility managers should find styles suitable for the volume of foot traffic the facility experiences. Mats are designed to handle different traffic loads and some are specific to a type of facility such as a manufacturing plant. Weather conditions should also be considered because different mats may be required for rain or snow season. Facility managers or cleaning professionals may need to change entry mat styles as the weather dictates.
Rather than using an entry mat as a single debris-trapping tool, it should be one component of a system that includes scraper mats outside the building, scraper or wiper mats in the entryway, and wiper mats inside the facility. To determine whether the proper type and amount of entry matting has been installed, facility managers should look at how these floor coverings wear.  If they are excessively worn, a different mat may be needed. If there is soil beyond the mat, additional coverage is recommended.
The more coverage these mats achieve, the healthier and cleaner the building will be. The facility will look attractive to visitors and people will not pick up germs and viruses simply by crossing the threshold. Commercial cleaning services can play a part by vacuuming or sweeping entry mats regularly and hosing them down as needed.
Facility managers should not skimp when it comes to entry mats. They should select mats that are appropriate for the type of facility and the traffic it receives. If harsh weather is commonly an issue, special mats should be installed to handle the conditions. With a complete matting system in place, the building and those entering it will benefit from the cleaner and more sanitary environment.