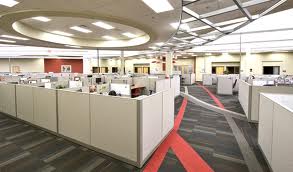 Carpet makes any area a welcoming spot and with so many styles, colors, and patterns available, it can also enhance the ambiance of an environment by complementing the décor. Carpeting an area helps to deaden sound and if cared for properly, carpet can help improve the quality of indoor air. Caring for carpets is one of the things that commercial cleaning services do best and they are now revealing their secrets.
Hard floors enable dust, dirt, and other indoor particulates to easily redistribute themselves to the indoor air. Carpeting traps contaminants so they do not become airborne, filtering the indoor air. To perform this task most effectively, carpet cannot be overloaded with dirt and debris. This makes regular vacuuming and periodic hot water extraction a must. When it is regularly subject to this preventative maintenance, carpet will last longer, saving the building owner money.
Matting at the entrance to the building and carpeting in high traffic areas should be vacuumed daily. Less-traveled carpeting should be vacuumed two or three times each week. Removal of dry particulates from carpets through regular vacuuming makes intensive cleaning a less frequent occurrence. Cleaning professionals use ergonomically designed vacuums that are comfortable and clean all types of carpet fibers thoroughly.
However, even the most comprehensive regular vacuuming regimen cannot remove every bit of soil. Ground-in debris and greasy substances can cling to carpet fibers and a vacuum may not be able to remove them. Professionals use customized techniques and special equipment to remove these particulates. A dry cleaning process called encapsulation is easy and inexpensive way to remove soil in between deep cleanings.
Spots can easily develop on commercial carpets so professionals have box extractors, chemical solutions, and microfiber cloths on hand to perform carpet spotting to remove these. Hot water extraction is the ultimate in carpet cleaning and should be performed at least once a year. This process restores carpet fibers to an unsoiled condition so they can filter indoor air most effectively. Portable extraction machines are very expensive so many businesses find it more cost-effective to contract deep cleanings for carpeting.
When carpets are professionally spot or deep cleaned, all the cleaning solution and as much water as possible are removed. This prevents rapid resoiling, soil wicking, fiber damage, off-gassing, and odor issues. Carpets are their cleanest, increasing their ability to improve indoor air quality, and they remain this way for a longer time, extending their lifetimes.
Read about more cleaning tips: