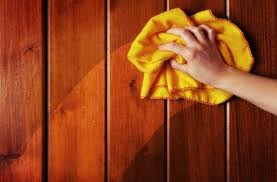 Santa Claus is coming to town so give the house a good cleaning before he arrives. Cleaning the house before decorating it for the holidays makes everything much easier. Get the entire family involved, assigning tasks to your spouse and children. This is a great way for kids to earn allowance money for holiday gifts and it keeps the hubby or wife from doing too much holiday shopping.
Declutter the house before cleaning it, removing items from areas that will soon feature holiday decorations. If you have extra room available in closets or drawers, place these items there or wrap them and put them into storage containers. Otherwise, put the items together on a table and put them into boxes after you empty these of holiday decorations.
Give the house a through dusting, carpet cleaning, and floor mopping. Wipe down walls and cabinets and clean the windows so your holiday candles will shine into the darkness. Now is also a great time to clean out kitchen cabinets, the refrigerator, and freezer. This frees up space for holiday goodies and ingredients for the big meal. Throw out expired items and donate unwanted nonperishable food to the local food pantry. Organize cabinets so everything will be easy to find when preparing the holiday meal.
If guests will be staying overnight during the holidays, place fresh bed sheets on the beds and give the room a thorough dusting and carpet cleaning. Clean the guest bathroom, make sure it is stocked with soap and shampoo, and hang out holiday towels and washcloths. Add a small basket of toiletries like a toothbrush, toothpaste, dental floss, mouthwash, and hair spray so guests can use whatever they forget to bring.
After the home is clean, let the decorating begin! Keep cleaning products on hand because some holiday decorations may need dusting or cleaning. Once the house is decorated, get out the holiday china, silverware, and glassware, inspecting it to see if any items are dirty. Special cleaning products and techniques must be used on these items so treat everything with care.
Once these chores are completed, make the holiday cookie list. Prepare the treats throughout the weeks before Christmas so there is always something to enjoy. Friends, neighbors, and co-workers will love receiving these goodies to munch on while they are doing their own holiday cleaning and decorating. Keep your own house clean through Christmas by giving it an occasional dusting and vacuuming.