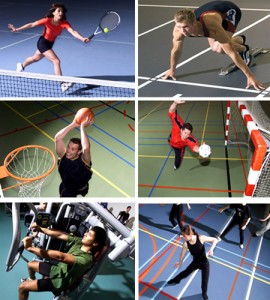 With increasing amounts of fungi, viruses, bacteria, and the infection MRSA being found in gyms, it is important that commercial cleaning services train workers in proper disinfection of athletic facilities. Community-associated MRSA bacterial infection is most often spread by skin-to-skin or direct contact. Individuals engaging in close-contact sports are particularly at risk.
As part of their building maintenance duties, cleaning companies indentify the areas to address and the best solutions. Weather considerations are taken into account when determining application date. Facility playing fields must be completely dry before sanitizing solution application and rain should not be expected within eight hours following application. Other areas should be dry and people should not be present during and after treatment, as directed by the sanitizing solution manufacturer.
A boom-style sprayer transported by a motorized vehicle is used to apply sanitizing solution to the synthetic turf. Building maintenance services also include treatment of walls and other points of interest with a solution considered fungicidal, virucidal, disinfectant, and odor eliminating. Shower rooms, locker interiors and exteriors, railings, benches, equipment rooms, storage areas, and restrooms are each treated by spraying and scrubbing down with the solution.
Commercial cleaning services use only solutions that are proven germ-killers on hard surfaces. These substances have also been shown to significantly decrease the chance of any cross-contamination. One such product is SureClean, a hard surface disinfectant and sanitizer registered with the Environmental Protection Agency (EPA). This hospital-grade disinfectant is effective with a broad spectrum of bacteria and significantly reduces cross contamination from E.Coli, MRSA, Hepatitis B, and more.
TurfStat Pro is another commonly used product. This hospital-grade disinfectant is also a fungicide, sanitizer, mildewstat, and virucide. It kills germs on vinyl, plastic, fiberglass, and other non-porous surfaces as well as washable synthetic fibers. This solution is compatible with materials used to manufacture and install synthetic athletic turf. TurfStat Pro has also been evaluated under the U.S. EPA Protocol and was determined effective against Hepatitis B and C, Bird Flu, MRSA, E. Coli, HIV-1, and other infections.
BacStop is used by cleaning companies to sanitize fabric. This liquid product eliminates 99.9 percent of bacteria considered infectious. Where bleach stops working after removal, BacStop provides a bacteriostatic and self-sanitizing finish. An inhibition zone is created to assist in preventing cross-contamination due to both gram positive bacteria like staph and gram negative bacteria like Klebsiella pneumonia. When products like this are used, gym patrons need not worry about acquiring infections.