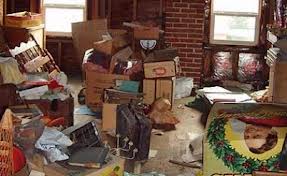 Elementary schools in Manhattan and throughout the country are filled with sticky surfaces. Each day, hundreds of students, teachers, and administrators cross these thresholds to encounter flat surfaces that are sticky. There is more to stickiness than meets the eye, especially from the perspective of a cleaning professional. While most of us envision a sticky surface resulting from spilled glue or beverages, cleaners use the word "sticky" when referring to what a flat surface attracts.
Flat surfaces like desks, tables, and shelves are magnets for clutter, creating an environment that looks messy and may be unsanitary. These surfaces take on a sticky quality because an item placed on them typically remains there for a while, essentially stuck in place. A single item seems to attract other items and a pile quickly develops. Cleaners facing piles on flat surfaces within school environments have their work cut out for them.
Thorough cleaning cannot be performed unless a surface is clear. The process of removing clutter creates a surface that is "slippery" and able to be cleaned. Author and decluttering expert Francine Jay introduced the slippery surface concept to get people to clean up their piles. She says we should imagine that flat surfaces are slick so nothing can stick to them. These surfaces should be viewed as activity, not storage, areas.
In schools, flat surfaces exist for students to do projects and for teachers to create lessons. From the perspective of janitorial services, flat surfaces exist for cleaning. An item placed on a flat surface should only remain there if it represents an activity being performed and it should be removed once the activity is complete. According to Ms. Jay, everything placed on a slippery surface should be moved to a storage area or taken when exiting the room.
Cleaning professionals should reinforce the message that only a clear surface can be cleaned. Teachers, administrators, and students must realize that to be healthy, a school environment must be clean and cleaning cannot be accomplished when piles reside on flat surfaces. Administrators should provide a sufficient amount of dedicated storage space for items that tend to find homes on flat surfaces.
School-wide decluttering events are formal ways to get rid of the piles. Students and begin viewing clutter differently and this perspective may carry over to their personal environments. With flat surfaces cleared, the cleaning process can proceed unimpeded, creating spaces that are visually appealing and hygienic.
Carpet cleaning and Putting Away Winter Clothing For The Winter