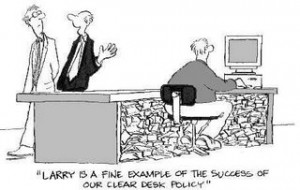 There are so many things to consider when starting a new business, not the least of which is how to keep it clean. If the space is small and there are no employees, the business owner often does it. When staff is on board, office cleaning duties can be shared by all workers. Larger spaces are more time-consuming to clean, leading many companies to use commercial cleaning services. Whatever the arrangement, those in charge must determine how frequently the area should be cleaned.
Standard office cleaning services provided by professional cleaners include both daily and weekly options. On a daily basis, cleaners pick up trash, sweep and mop floors, vacuum, clean interior windows, and maintain restrooms. Charges are based on both the frequency and number of services, which can be adjusted at any time. Some clients enter contracts for services, while others prefer to pay as they go.
If a once per week janitorial service is requested, the same duties are performed as are done on a daily basis. Maintaining restrooms in particular involves much more than one might guess. Toilets are cleaned and disinfected, sinks and mirrors are also provided with a cleaning, floors are mopped, and consumables like soap, toilet paper, air fresheners, and paper towels are replaced as needed.
On a more infrequent basis, wax floors may need to be waxed and buffed. This process can be time-consuming so it is often done outside of business hours to prevent interruption to the workday. Newly waxed and buffed floors are often slippery, so a sign is usually displayed as a reminder for workers to be careful when walking on them.
Commercial cleaning services offer many additional types of cleaning including power washing and hardwood floor cleaning. Clients request these on an as-needed basis, paying separately when services are rendered. With the best cleaning companies, there is never any worry about cleaning products because only the safest solutions are used. Many cleaners are making the switch to eco-friendly cleaning products made from natural or organic ingredients.
Office workers may designate whether they prefer to have their offices dusted and vacuumed or left alone. Leaving an office alone is a frequent request when a worker is engaged in a big project and the cleaning service respects these wishes. Whenever they wish their office cleaning to be resumed, they simply inform the cleaner and the regular cleaning schedule begins once again.