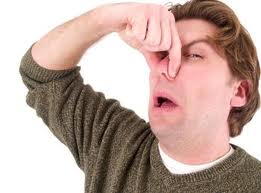 Temperatures have been soaring, breaking records across the country. Heat and humidity may do more than make things uncomfortable outdoors. They can also create offensive odors that facility managers must tackle. Onsite janitorial staff and commercial cleaning services deal with an assortment of summer odors and Cintas Corporation recently ranked these.
The most offensive summer scent comes from trash dumpsters. These containers are typically breeding grounds for odors but the situation can get particularly unpleasant when temperatures rise. Dumpster doors should be kept closed to prevent the smell from reaching the building. Regular dumpster cleaning keeps odors to a minimum.
Restrooms are next on the list, with more people visiting public recreational facilities, parks, and pools during summer months. A restroom maintenance program that includes deep cleaning, protection, and maintenance of surfaces will limit odors. Installing air fresheners with a timed release feature neutralizes odors and keeps restrooms smelling pleasant. Towels used to clean restrooms, counters, and tackle spills should be laundered regularly rather than sitting for an extended period, releasing unpleasant scents into the air.
A dirty mop may house and breed harmful bacteria. It is also a source of unpleasant odor that can easily spread throughout the building. To keep mops smelling fresh and increase the cleanliness and safety of floors, janitorial workers should launder mops regularly. Staff should also focus on tiled surfaces within buildings because contaminants and debris can build up in tile grout, causing odor. Grout lines should receive regular deep cleaning, especially during the summer.
Many facility workers do not focus on air conditioning units when battling summer odors. Air conditioner filters and coals can become dirty over time, circulating unpleasant odors throughout the building. Deep cleaning services remove bacteria and dirt from air conditioning coils, pans, and other components. This eliminates the air conditioner as the source of potential odors during warm weather.
Interior leaks or floods can result from summer hurricanes and severe thunderstorms. Water should be removed as soon as possible or it may create a breeding ground for mold. An emergency cleanup company removes water and other potential contributors to odor using an ozone generator. The ozone neutralizes or kills bacteria and deodorizes the air. Whether it is dirty or clean, wet carpet can breed mildew so a system of regular deep cleaning that includes a fast drying method should be used to remove debris from carpet fibers and leave them nearly dry.