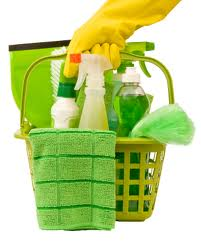 It is not difficult to remember when green cleaning products were difficult to find and few commercial cleaners demanded them. After all, this was only a few years ago. Things are very different today, as a recent survey by Sanitary Maintenance magazine and ISSA, the Worldwide Cleaning Industry Association, indicated. Commercial distributors reported that green cleaning solutions represented nearly one-third of total sales.
This clearly indicates that green cleaning has established a presence in the commercial cleaning industry. However, the changes are far from over, as this market is only in the beginning stages of evolution. It will be affected by developments like new products, changes to certifications for green buildings, and a stronger focus on cleaning to improve health.
A pilot program from the EPA will cause several green sanitizers and disinfectants to enter the market. These products will be highly regulated, with the EPA having exclusive authority in this arena. Hard surface sanitizers and disinfectants may not include claims regarding safety so they are not labeled "green." The pilot program recognizes sanitizers and disinfectants that have a preferred environmental profile under the EPA Design for the Environment Standard. Several products have already been approved and more are being reviewed.
The number of green buildings has grown dramatically due to the U.S. Green Building Council Leadership in Energy and Environmental Design (LEED) program. During 2011, the number of LEED registrations in the U.S. increased by 39 percent. By the end of this year, LEED certification may reach two billion square feet. As this trend continues, it will impact the market for green cleaning services and products. LEED for Existing Buildings: Operation and Maintenance includes a green cleaning component. This standard is currently being revised, with a November 2012 release expected.
In the future, the interest in cleaning for health is expected to increase, partially due to expanded acceptance of green cleaning practices. People are once again becoming aware of the primary purpose of cleaning, which is to remove pathogenic microorganisms and other unwanted items from a facility. The goal is to create conditions that encourage the health and well-being of occupants.
An Adenosine Triphosphate tester is one device used to scientifically assess cleaning process effectiveness. This tool is inexpensive and provides almost immediate results, so many cleaning companies have begun using it to measure cleaning effectiveness and improve relevant processes. More cleaners are finding that green cleaning is the best approach.