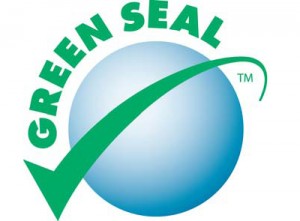 Green cleaning practices go by many names but all reduce the potential exposure to biological, particle, and chemical contaminants that could adversely impact occupant and cleaning personnel health, building systems and finishes, the environment, and air quality. Office cleaning companies that perform green cleaning often have policies that address the sustainable purchase of cleaning products and materials, trash bags, and disposable paper janitorial products.
The 501(c)(3) organization Green Seal publishes standards of environmental certification for products and services. Cleaning products used in green practices should meet Green Seal GS-37, 40, and 41 standards. In California, an alternative would be compliance with maximum permitted VOC levels under the California Code of Regulations. Cleaning staff are trained in these requirements as well as eco-friendly cleaning policies and procedures. They should be aware of the use, hazards, maintenance and disposal methods of cleaning packaging, dispensing equipment, and chemicals
Trash bags and disposable paper janitorial products used in a green cleaning program should meet the U.S. EPA Comprehensive Procurement minimum requirements. Alternatively, compliance with Green Seal GS-01 or 09 is acceptable. Paper products should be created from tree-free fibers or derived from resources that are rapidly renewable. Vacuums, hard surface cleaning equipment, and carpet cleaners should meet specific eco-friendly requirements. For example, a vacuum should have an operational sound level under 70 dBA and capture 96 percent of 0.3-micron particulates.
When possible, microfiber mop systems, dusters, and cloths should be used during office cleaning. Microfiber is highly absorbent, more effective at gathering dirt and dust, and reusable. Carpets or permanent entryway systems present in building entrances or lobbies should be subjected to special cleaning to prevent pollen, dust, dirt, and other debris from entering the building. It is recommended that carpets be cleaned at least once weekly, more often in buildings that receive the highest volume of foot traffic.
Some newly constructed buildings strive for Leadership in Energy and Environmental Design (LEED) certification. This green building certification system is internationally recognized and looked to as the ruling standard regarding eco-friendly construction. By adding a green cleaning policy, new buildings pursing this certification receive a credit for Innovation in Design.
A cleaning policy must adhere to several requirements in order to qualify for the credit. These include the use of sustainable cleaning products, chemical concentrates and satisfactory dilution systems, sustainable cleaning systems, properly trained personnel, non-antimicrobial hand soaps, and cleaning equipment with reduced negative effects on indoor air quality.