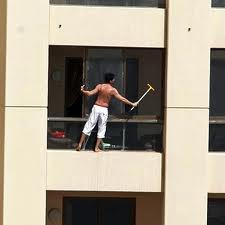 Hospitals, office buildings, and schools in Manhattan and other urban areas present a challenge when it comes to exterior window cleaning. These structures are often quite high, making it difficult to clean them from the ground floor. A squeegee and a glass cleaner are sufficient for cleaning an interior window. An exterior window requires different tools and water-fed pole systems are becoming increasingly popular.
With a water-fed pole, a single process is used to clean an exterior window. The pole is connected to a source of clean water and the other end features a brush used to scrub exterior window glass. Once the glass has been cleaned, the window can be rinsed and allowed to air dry. Experts claim this piece of equipment is the largest productivity and safety-focused enhancement in the window cleaning industry. Though the system has been marketed since the 1960s, it has only become popular within the past ten to 15 years.
Some of the poles can extend 60 or 70 feet and portable water purification systems make water supply more convenient. Cleaning the windows of many buildings no longer requires a lift or a ladder, both of which can be expensive and dangerous. Building maintenance workers stay on the ground while cleaning exterior windows several stories in the air.
There seem to be no drawbacks with this cleaning method. It is safe, eco-friendly, and creates results that are just as sparkling as the traditional methods. Distributors sell many water-fed pole systems to hospitals, universities, large facilities employing custodial staff, and cleaning companies. They teach new customers how to use the equipment, allowing these facilities and organizations to save thousands of dollars on equipment and related safety precautions.
Using purified water eliminates streaking during window cleaning. Van-sized water purification equipment can be fitted or self-installed and trailer and trolley systems are also available. Carbon filter poles are lightweight and easy to operate. When a water source and pole combine, a system is created that makes exterior window cleaning much less of a chore.
Pole brushes come in various sizes and materials including monofilament. There are even brushes designed for solar panels. Swivel brushes make it easier to clean windows at different angles because the brush head swivels to the desired position. Fan jet nozzles emit a powerful spray of water, removing stuck on dirt and debris from the window surface. More cleaning companies are reaping the benefits provided by this cleaning method.