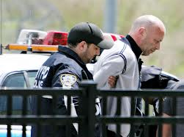 English: So after completing the mission of getting to this secluded waste of a space called Do & Co catering I enter the lobby to discover some weird looks flying my way, Tino the operations manager at Do & Co is looking at me as if I stole one of his toys off his desk…Wait let's start this from the beginning, the day before this was more of a starting point to what really happened, so I'm leaving Do & Co to get some fresh air, which was almost impossible because this place is located next to the sanitation department and on a hot rainy day it smells like the pits of hell.   Nothing you've ever experienced before, it's mind numbing.  I see a bunch of emergency vehicles and police cars and trucks by the hotel located across the street.   This was unusual because this place is usually quiet and accommodates the kind of people who do business with the surrounding establishments.  People, who carry there little brief cases and get into their rented cars.  I notice there are two gentlemen on the floor in handcuffs, looking as if they had stepped out of a diehard movie.  I become more inquisitive of what's going on and I start moving closer.  As I do I hear one of the police radios go off, saying, " No weapons have been retrieved we are still looking." At this point I get a call from the evil one, Trisha, with one of her normal Erratic requests, " Joseph where are you? There is a mess in the hot kitchen and your guy is not here." I cut my little nosy investigation short and I run inside to fix whatever is going on.
The next day, Tino looks at me and with his dramatic soap-opera face asks me if I know Ramon Sterling, and if he works for me. The first thing I think of is Ramon got caught doing something wrong, or doing nothing at all, so I respond that Ramon does work for busy bee, and Tino says, "Well, because of Mr. Ramon Sterling, Do & Co is now affiliated with a double homicide and it's all over the web and press".  With a clueless look on my face, the only thing I could say was, 'what!"
Apparently there had been a murder in a hotel nearby the day before in connection to some kind of meeting between organized crime members, and Ramon had decided to tell everything he saw to the reporters at the scene of the crime, including the fact that he worked for Do & Co. …Ramon haven't you ever seen the godfather?…Anyways, the next day after the event Ramon's name was plastered all over the newspapers and web news articles, along with his place of employment and his account on what he saw.  I quickly, for Ramon's sake, started to investigate the situation and found out that all parties were apprehended and even two of them were deported.  Tino was trying to figure out a way to have us fire Ramon, but apparently it is Ramon's constitutional right to give any testimony or counts of an event to the press and can not be reprimanded for such a thing. Luckily for Ramon these people are far away, or he might be sleeping with the fishes!

Po Polsku: Tak więc po zakończeniu misji dotarcia na miejsce do tego odosobnionego marnotrawstwa przestrzeni zwanego DO & CO catering wszedłem do lobby odkrywając dziwne spojrzenie skierowane w moim kierunku T główny manager w DO & CO jakbym co najmniej ukradł jedną z jego zabawek z biurka
Moment … zacznijmy od początku, zaczęło się to wszystko dzień wcześniej, wychodzę z DO & CO aby zaczerpnąć świeżego powietrza, co było prawie niemożliwe, bo to miejsce znajduje się tuż obok zajazdu smieciarek (sanitation)  i w gorące dni deszczowe fetor jest taki jak z otchłani piekła. Nic takiego w życiu nie doświadczyłeś to paraliżuje po prostu umysł. Widzę kilka pojazdów ratunkowych,  policyjnych samochodów i ciężarówki  przy hotelu znajdującego się po drugiej stronie ulicy. To było niespotykane, bo to miejsce jest zwykle spokojne i przebywają tu zwykle  ludzie którzy robią interesy z okolicznymi firmami. Ludzie z aktówkami pod pacha biegnący do swoich wynajętych samochodów. Zauważyłem dwóch mężczyzn na ziemi zakutych w kajdanki, wyglądających tak jakby wyszli prosto z filmu akcji. Zaciekawiłem się  bardziej i zacząłem się zbliżać. Posłyszałem jak przez jedna z krótkofalówek policjant powiedział  Jak ja mogę usłyszeć jedną z radia policji udają się, mówiąc: "Nie, żadnej broni  jeszcze nie odebraliśmy wciąż szukamy." W tym momencie mój telefon od diabla wcielonego- Trisha, z jednym z jej stałych eratycznych wymogów "Joseph, gdzie jesteś? Jest bałagan w "gorącej kuchni" i twojego pracownika nigdzie nie ma" Musiałem zakończyć moje wścibskie dochodzenie i ustalić co się dzieje.
Następnego dnia, T patrzy na mnie z jego dramatyczna jak z mydlanej-opera twarzą i pyta mnie, czy znam, Ramona Sterlinga i czy pracuje dla mnie. Pierwszą rzeczą o której pomyślałem było ze złapali Ramona na robieniu czegoś złego, albo na w ogóle nic nie robieniu, więc odpowiadam, że Ramon pracuje dla Busy Bee, a T odpowiada: "No, bo dzięki panu Ramonowi Sterling  Do & Co jest teraz powiązane z podwójnym zabójstwem i to jest w całym Internecie oraz  prasie ". Z zdezorientowanym wyrazem twarzy, jedyne co zdołałem wydusić było  "co!"
Prawdopodobnie było morderstwo w pobliskim hotelu dzień wcześniej w związku z jakimś spotkaniem członków zorganizowanej przestępczości, a Ramon postanowił powiedzieć wszystko co widział z dziennikarzami na miejscu zdarzenia, w tym i fakt że pracował w Do & Co … Ramon czy ty nigdy nie oglądałeś "Ojca chrzestnego"? … W każdym razie, następnego dnia po całym zdarzeniu  Ramona imię było we wszystkich możliwych gazetach oraz Internecie, wraz ze jego miejscem zatrudnienia na konto tego co widział. Szybko zacząłem badać sytuację i okazało się, że wszystkie strony zostały zatrzymane, a nawet dwóch z nich zostało deportowanych. T starał się znaleźć sposób, abyśmy zwolnili Ramona, ale najwyraźniej konstytucyjne prawo pozwala Ramonowi do udzielania jakichkolwiek zeznań o zdarzeniu do prasy i nie może być ukarany za coś takiego. Na szczęście dla Ramona ci ludzie są daleko bo inaczej nasz Ramon mógłby być zabity!