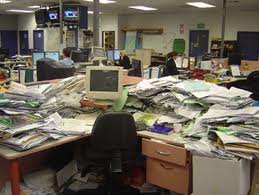 While some people tidy their desks before leaving work each day, others require official prompting. National Clean Off Your Desk Day is the perfect occasion to get the messy Marvins of the corporate world to clean their workspaces. Falling on January 14 this year, it is a day that everyone should observe by decluttering their desks. A healthier and more attractive work environment has many benefits.
In a 2012 Adecco USA survey, nearly 60 percent of respondents admitted to judging coworkers by the cleanliness of their desks. Unfortunately, nearly 50 percent said they were "appalled" by the cluttered state of the desks of some colleagues. With the increasing number of open office floor plans, it is difficult to hide a messy desk from others.
Office cleaning experts recommend that business professionals make appointments with their desks on a daily basis, not just on January 14. Workers should designate a specific time during the workday for desk organization and cleaning. Items that are not needed should be recycled or discarded and those that are should be stored for later use. A pile is not an organization system…it creates clutter. Files, books, binders, and other documents should have homes in places other than the desktop.
Commercial cleaning services do not usually deal with desktop clutter but they are typically responsible for the cleanliness of hard surfaces including desks. Office workers make their jobs easier by eating in lunchrooms, not at their desks. A workspace that doubles as a dining table will be dirty and contain many bacteria and germs. Cleaning staff must work hard to make these areas hygienic and if they are unsuccessful, the office can become a breeding ground for viruses and infections.
Cleaning products are typically used to keep work surfaces sparkling and sanitary. Commercial cleaning workers know which items to use but office employees may not. The best approach is to clear the desktop but leave the heavy cleaning to the professionals. Cleaning crews use products designed for specific surfaces, getting each area spotless without causing damage.
January 14 is fast approaching so workers should begin preparing by sorting through the stacks of items on their desks and filing these into the appropriate places. Others will be so impressed that they will follow suit. The entire office will soon be clutter-free so professional cleaners can go to work to make the area as tidy and sanitary as possible.