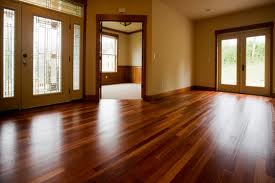 Commercial janitorial services that handle hard floor maintenance do more than just sweep, wax, and buff. Hard floor cleaning technicians share responsibility in preventing damage to the properties they help maintain and the people who occupy these facilities. While preventing injuries tends to receive attention, preventing property damage is often overlooked.
Floor maintenance technicians can do several things to reduce the likelihood that property will be damaged. On any given day, they encounter various things that could damage the property they maintain. The first step in preventing this damage is identifying where it could occur. Janitorial workers must be aware of their surroundings and this includes the entire room in which they are working, not just the floor. They must identify areas that could suffer damage and bring these to the attention of building management.
All potential problems should be addressed before the floor technicians get to work. These professionals will remove obstacles that could impede floor cleaning or may be at risk of damage during the job. They take care when unloading equipment from their vehicles and transporting it into the building. Even a convenience like wedging a putty knife between the door and door jamb to create clearance for floor cleaning equipment can cause damage to the door so they avoid such actions.
Each type of floor covering requires special cleaning products and equipment. Floor technicians identify the covering and select safe chemicals, tools, and maintenance methods. Many are trained and certified to work on specific floor coverings, ensuring that they have the skills to perform the job correctly. They also take the utmost care when moving items across floor surfaces, using a cart or hand truck to transport large objects.
Floors attach to walls so these vertical surfaces can be damaged while maintaining floor surfaces. Careless behavior and heavy equipment are typical causes of damage. Floor stripping chemicals can splash onto walls and etch the paint. Solutions used to coat floors can also splatter onto a wall and can be difficult or impossible to remove, requiring an expensive repainting job.
A congested work area is at higher risk of property damage. Items should be removed from the floor, walls, and shelves. It is far too easy to splash chemicals onto expensive artwork or knock over an artifact with the handle of a mop. By identifying and minimizing the chance of property damage, hard floor technicians provide value-added services that cannot be quantified.