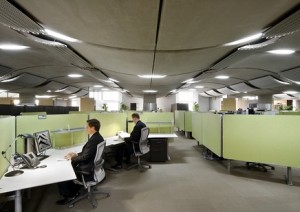 The holidays are officially here and the associated hustle and bustle has already begun. Every business seems to get caught up in the holiday frenzy, resulting in some heavy foot traffic in office buildings throughout the country. These structures provide shelter and allow companies to thrive so why not give them the gift of a thorough holiday cleaning?
The schedules of commercial cleaning services are already starting to fill up so if on-site janitorial services staff will not be handling the holiday cleaning, reserve an appointment now. Buildings that are particularly busy may require some attention from both groups because a deep cleaning can be more than on-site staff can handle before Thanksgiving. The quicker the building is cleaned, the sooner it will look more presentable to visitors.
Fall winds are blowing in many areas of the country, causing leaves and dirt to build up in the vestibules of office buildings. Janitorial services workers should give lobby areas a regular cleaning to prevent this debris from being tracked into individual offices. Tenants have business to focus on and do not want to be bothered with cleaning. They expect the janitorial team to handle this, allowing their entrances to present a welcoming face to customers, prospects, and visiting executives.
Before December begins, building managers should have one of the local commercial cleaning services give the interior of the entire building a good cleaning. The structure will then be fresh, clean, and ready to be decorated to celebrate the winter holidays. A clean environment makes everything look better, including holiday decorations. Lights seem brighter and ornaments on the tree sparkle a bit more. The building itself seems happy, which should put building staff and tenants in the holiday spirit.
Cleaning experts recommend a carpet shampooing at least twice a year. Have this done before the next snowfall so snow mats can be installed in the lobby and other high traffic areas. This will keep melting snow and debris from being tracked throughout the building. Carpets will stay cleaner, eliminating the need to shampoo them until spring.
Keeping an office building clean throughout the blustery fall and frigid winter is no easy task. Janitorial staff can partner with an outside cleaning company to make things easier. The result will be a clean building free of dust buildup and outside debris. Collaborating on holiday cleaning could lead to a long-term relationship between the two parties.