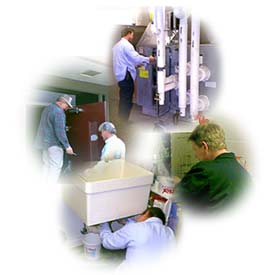 Keeping a building clean and safe is no small task. When building maintenance is not handled in-house, it should be contracted out to an experienced company. A convenient approach is to have the same company handle janitorial services for the building. This ensures that the building is always clean, in addition to being a safe place to visit and work. The larger the building, the bigger the job and only a true professional is qualified to handle this work.
Employees perform best when working within a safe and sanitary environment. Some cities are known for being eco-friendly, requiring building managers to find companies that provide "green" janitorial services. When trash is removed, recyclables are separated from garbage and disposed of in the proper manner. Trash receptacles are sanitized with antibacterial wipes before their liners are replaced.
Furniture and surface dusting and polishing, restroom cleaning and sanitizing, and window cleaning are just a few of the other cleaning services provided. Building floors are subjected to heavy foot traffic, requiring regular cleaning. Carpets are vacuumed and spot cleaned and hard floors are swept and mopped to remove bacteria. Each morning, floor surfaces are clean and sanitary, ready for a busy day.
The building maintenance checklist is a long one and includes preventative measures regarding the building interior and exterior as well as the grounds. Inspection and maintenance are performed at different frequencies, depending on the task. For example, workers conduct daily, weekly, and monthly checks of the fire alarm system, fire hoses, extinguishers, sprinklers, and smoke and heat detectors. On an annual basis, a qualified inspection firm examines these components.
Every building should have an emergency generator and it is the job of maintenance workers to test it. Once per week, the staff runs each generator for 20 minutes. Fuel supply is replenished as needed and a qualified firm inspects each generator twice per year. On an annual basis, gas piping, electric wiring, and the electrical panel are inspected, including the area that supplies power to the generator.
Even driveway and sidewalk maintenance are handled by these companies. Workers inspect the areas annually for any trip hazards or cracks and have them repaired. They also look for cracks, water damage, shifting, and drainage issues with outdoor concrete patios and retaining walls. The time they take to inspect and maintain these and other areas of the building prevents safety hazards from arising and minimizes repair costs.