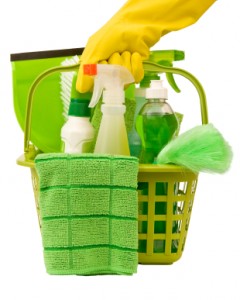 Businesses continue to struggle in this economy, requiring careful scrutiny of every penny spent. Knowing that they even reduce advertising budgets should make it no surprise that cleaning services are slashed. While promotional efforts are essential to business success, cleaning is viewed as a luxury service. Companies are now opting to go it alone, at least until their revenues improve. If they select this approach, they should equip themselves for the task.
In the smallest businesses, workers may chip in to handle the cleaning duties. Everyone receives a task and is expected to perform it on a regular basis. Tasks may rotate, with someone doing carpet cleaning one week and cleaning restroom sinks the next. If budget permits, the company should use eco-friendly products to reduce harmful chemicals from being released into the environment.
Daily work area cleaning includes emptying trash cans and replacing trash bags, vacuuming carpets, sweeping and mopping floors, dusting fixtures, and sanitizing door handles. In the break room, the floors, sink, faucet, tables, chairs, cabinets, and countertops must be cleaned. Trash should be emptied daily and supplies should be replenished as necessary. Each week, the inside and outside of the coffee maker, refrigerator, and microwave should be cleaned.
Daily carpet cleaning in common areas like lobbies and conference rooms is important because these experience a high volume of foot traffic. Hard floors should be swept and mopped, room fixtures dusted, woodwork wiped down, and trash emptied, all on a daily basis. Both sides of glass doors and window interiors should be cleaned as needed but at least weekly. Once each area has been cleaned, lights should be shut off and doors should be closed.
Restrooms are often the most difficult areas to clean because they must be sanitized daily and few volunteer for this task. It requires cleaning the surface of the toilet, scrubbing the toilet bowl, and then sanitizing the toilet seat and handle. Sinks, faucets, and mirrors must be cleaned. Soap, toilet paper, paper towels, and air freshener should be replenished as needed. Doors, door handles, and toilet paper holders must be sanitized.
As you can see, eliminating cleaning services from a corporate budget leaves much work to be done by staff. Once business begins to improve, re-entering a contract with a professional cleaner is often welcomed by all who performed the cleaning chores in the interim. They realize that the services offered by this vendor are well worth the cost.