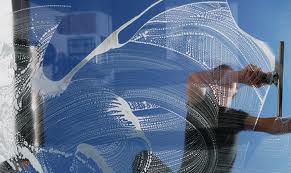 Most of us are familiar with the phrase, "I don't do windows," whose origin is in the cleaning industry. Though cleaners may have originally imposed limits on what they would do, increased competition makes this unwise. The best commercial cleaning services tackle floors, bathrooms, and even windows, putting them in high demand with businesses large and small. In recent years, developments in professional window cleaning have led to more sparkling results.
Cleaning the windows of a high rise building is not a task for the faint of heart. However, with more high rises popping up every year, professional cleaners have additional opportunities to acquire new business. Safety regulations regarding window cleaning have resulted in new equipment and cleaning methods. Using water-fed poles, professionals can clean high-rise windows from the ground, eliminating the need to climb scaffolding.
Telescopic and modular water-fed poles were traditional choices. Telescopic poles are heavy and flex during extension, resulting in a loss of control. Though modular poles remain rigid when extended, they also can become heavy and extensions make them more difficult to handle. Developments in materials, design, and engineering resulted in carbon fiber poles. Carbon fiber achieves the needed balance between weight, rigidity, and strength.
Carbon is stronger and more rigid than steel, yet it weighs much less. Formula One race cars make use of carbon and now so is the window cleaning industry. Carbon fiber water-fed poles make window cleaning an easier and more comfortable task. Since the poles are lightweight, window cleaners experience less body strain, enabling them to clean larger surfaces before tiring. Adding extensions to increase reach does not compromise rigidity.
With carbon fiber poles, window cleaners can get into every crevice and corner, cleaning windows more effectively. Window cleaning is part of regular building maintenance and these poles have made it much easier. Professional cleaners no longer dread exterior window cleaning day because they know the job will be simple and fast. State-of-the-art technology helps them to be more efficient without placing additional strain on their bodies.
Technology continues to move at the speed of light. By the next decade, commercial window cleaners may be using other innovative equipment to make high-rise windows shine. Until then, carbon fiber water-fed poles will do because they are more comfortable, efficient, and effective alternatives to traditional telescopic and modular versions. When they have this cleaning equipment, professional cleaners are eager to say they do windows!