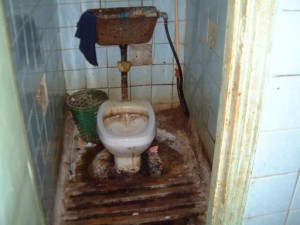 There is nothing like visiting a business with dirty restroom facilities to put a bad taste in your mouth. Not only is the situation unattractive, it can be downright unhealthy. Cintas Corporation recently commissioned a survey of over 1,000 adults of at least 18 years of age and 94 percent of them said they would avoid a repeat visit to a business that had dirty restrooms.
When asked which type of businesses they would avoid if the restrooms were dirty, the respondents overwhelmingly selected health care facilities, hotels, and restaurants. The supermarket was the response supplied by 50 percent of those surveyed. Other popular answers were car dealerships, gas stations, and retail stores. Across various industries, the condition of restrooms affects the ability to attract and maintain customers.
Cintas Senior Director of Marketing Dave Mesko stated that to maintain customer satisfaction, businesses should keep their restrooms dry, clean, functional, and stocked with supplies. Restroom cleaning should be part of the building maintenance process in high-rise office buildings because these see heavy client traffic. Even small fast food restaurants should make a point to clean restrooms regularly because failure to do so can be more devastating to the bottom line when customers are lost.
In a recent Harris poll, 85 percent of respondents said they associated restaurant restroom cleanliness with the cleanliness of the establishment's kitchen. Seventy-five percent said they would not eat again at a restaurant with dirty restrooms. Restaurant managers should have employees keep restrooms clean in between visits from commercial cleaning services. Deep cleaning should also be included on a routine basis to remove tough dirt and debris that daily cleaning does not.
A formal restroom maintenance program complete with spot cleaning and supply restocking can keep restaurants and other businesses from losing customers. Commercial cleaning services should educate business staffers and building maintenance workers about which chemicals and equipment to use. This results in the most effective cleaning in the shortest amount of time.
When facility maintenance staff, employees, and cleaning companies work together, a customized program can be developed, designed for customer satisfaction. These parties should regularly review the restroom maintenance program to ensure that the proper resources are allocated and that tasks are effective. This enables a business to save money and time while making a good impression on customers. Positive word of mouth from existing customers is one of the best forms of advertisement for any business.