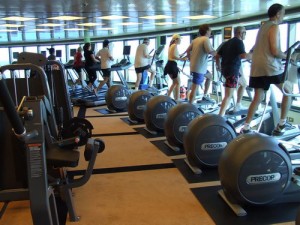 Every day, people all over the country head to the gym for a workout. As they lift weights, ride, and jog, they sweat and track around dirt. A fitness center is a breeding ground for debris, bacteria, and germs. Commercial cleaning services are often assigned to this type of facility because their techniques yield effective results. Every morning when the gym opens, it is clean and ready for exercisers.
Target areas to clean within a gym include the lobby, reception area, locker rooms, sauna room, equipment, and any studios. The lobby and reception desk are where first impressions are made. Professional cleaners use cleaning products that make the area spotless and control odor. The result is a fresh smell, not an odor of being overly disinfected. People want to feel comfortable and encouraged to become new customers, not repelled by an antiseptic smell.
Locker rooms experience a high volume of traffic, making it particularly challenging to control odor and keep surfaces clean. Standard restroom cleaning is taken up a notch due to the presence of showers where mildew can accumulate. Regular power washing rids the locker room of any growing fungus and makes the area sparkle. Odor control using metered aerosols keeps locker rooms smelling fresh between cleanings.
If the fitness center contains a sauna, only the most experienced cleaners should be used. Wood and stone surfaces in sauna rooms should be cleaned with hydrogen peroxide-based cleaning products that deodorize naturally and remove residue to leave surfaces clean. Gym equipment is wiped down with germicidal cleaner that sanitizes without damaging the expensive components. Yoga and workout mats are cleaned with a sanitizer to prevent viruses and bacteria from spreading.
Classes offered by some gyms are held in on-site studios rather than in the main workout area. The surface of the floor determines which type of floor cleaner to use. Until the floor is dry, the studio should be kept off limits to patrons in order to prevent injury. If any equipment is present in the room, it should be disinfected with the proper cleaner.
When fitness center owners use commercial cleaning services, they expect a higher quality of cleaning than they can do themselves. Work should be regularly inspected and if customers experience a rash of sickness, this should be brought to the attention of the cleaners. These professionals may need to provide a double-cleaning in order to remove any incubating germs.