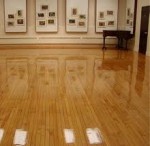 Commercial cleaning services deal with many types of floor surfaces including beautiful hardwood flooring. Contemporary hardwood floors require a fraction of the maintenance that traditional versions need. Cleaning and preserving these floors are simple tasks that do not require expensive cleaners or polishes. Learn what the professionals do to keep hardwood floors looking like new.
Regular sweeping, vacuuming, or dry mopping prevents dust and debris from accumulating on the floor. Diligence will prevent these substances from eating away at the luster of the floor. Spills should be blotted immediately with a dry cloth because a liquid spill can soak into the floor, affecting its integrity. Approximately once a week, cleaning professionals damp mop hardwood floors with warm water, being careful not to use too much water to avoid splintering or cracking the floor.
Dirty hardwood floors are cleaned with a solution of warm water and mild dish soap, making conservative use of water and cleaning up any puddles. The floor should be dried after being cleaned because water left to sit on the floor can create warping. When scuffs or heel marks appear, a professional hardwood floor cleaner applied with a cloth and rubbed into the mark should make it disappear.
Cleaning experts have a secret method for removing caked-on residue from hardwood floors. They put some ice cubes into a plastic bag and press it on the area for a few minutes. Once the residue has hardened, it can be removed with a gentle microfiber cloth. Office cleaning professionals work their way through these spots quickly and efficiently, getting floors clean so they can move on to their next task.
Protecting hardwood floors requires building occupants and maintenance staff to follow special guidelines. To reduce indentations and scratches, protective felt strips should be placed on the bottom of furniture legs and other heavy items that rest on the floor. Using area rugs and runners in high-traffic locations will preserve the condition of the floor.
If heavy furniture or equipment must be moved, a dolly should be used. Heavy items should never be rolled or slid across a hardwood floor. The relative indoor humidity level of the building should remain between 45 and 65 percent to prevent the floor from expanding and contracting. By following these recommendations, building occupants, onsite maintenance staff, and cleaning professionals help keep hardwood floors looking their best, prolonging the lifetime of this beautiful flooring material.