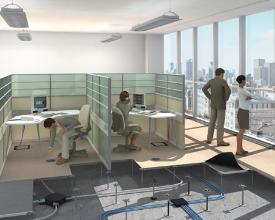 An indoor environment is the equivalent of an artificially-created ecological systems. It features structural materials, paint, furniture, a particular climate, and may even accommodate both pets and humans. Some aspects are considered pollutant reservoirs and others collect particulates. Whether an office lobby or a bathroom is being cleaned, this must be taken into account.
Certain environments present significant challenges to individuals already deemed vulnerable to environmental contaminants. These include schools, nursing homes, daycare centers, and hospitals. High occupancy environments like hotels, cruise ships, and office buildings present health risks to the general population. Each person is at risk within the home, making it important for us to take accountability for our own health through effective house cleaning.
Whether it is an office or one of the schools in Manhattan or any other city, cleaning must include several factors to be considered effective. The practice must maximize the removal of pollutants, while maintaining and preserving the integrity of all materials and surfaces being treated. This requires the use of efficient and appropriate cleaning products and equipment. These considerations are especially important when cleaning special environments like those mentioned above.
Students at schools in Manhattan and throughout the country do not have fully developed organs or immune systems. This makes them vulnerable to things like chemical residues and metals. Elderly people who occupy nursing homes and hospitals have weakened immune systems, are susceptible to respiratory  viruses, and may have chronic illnesses. In both cases, special cleaning products and techniques are required in order to improve the quality of the environment.
Improper cleaning of a school can turn the structure into a source of microbial, animal, and insect antigens that may trigger respiratory illnesses, infectious diseases, and even asthma. HVAC systems and carpeting are two other components of schools, day care centers, nursing homes, and hospitals that must be regularly cleaned in the proper manner to prevent the spread of disease and illness. In a school or daycare center, the attendance and performance of students is negatively affected by pollutant exposure and contamination. Within a nursing home or hospital, the health effects may be more severe.
Routine and effective cleaning manages the sources of infection and prevents carpets and other areas from serving as reservoirs for particulates. During structure design, certain aspects can be incorporated that intend to keep the area clean, such as exhaust ventilation and special furnishings. However, without ongoing cleaning in the proper manner, even the most well-designed special indoor environment can become harmful.