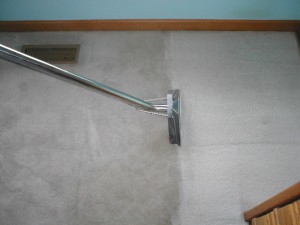 Over the past few years, many consumers have taken a hard look at their household budgets. Those who have suffered financial setbacks have been forced to reduce expenses. Residential cleaning services are often considered a luxury expense and are cut from the budget. Consumers begin doing the work themselves, which can be effective to a certain point. However, everyone should know when it is time to call the professionals.
Basic cleaning is something any of us can do if we have the correct supplies and equipment. If you are not skilled in cleaning a particular item or surface, research recommended methods online. When there is doubt whether a product is suitable for use on a certain area, refer to the manufacturer instructions or select another product that is designed for the material.
Carpet cleaning is easy to do as long as we have a decent vacuum. Many consumers can also tackle small spills or stains themselves. However, after months of traffic, any carpet will begin looking worn. Spots that are difficult to remove can attract more dirt if unaddressed. At this point, it becomes necessary to rent a carpet cleaning machine or hire one of the professional cleaning services that specialize in cleaning carpets.
After the costs of machine rental and cleaning solution, plus time to do the work, are taken into account, it seems less expensive to use a professional for carpet cleaning. The task will be performed quickly, leaving the carpets looking like new. Regular vacuuming and spot cleaning should extend the time between professional treatments. This approach keeps cleaning costs low and maintains floor coverings for years.
Hard floors require regular vacuuming to remove dirt and other debris. When streaks and spots begin appearing, it is time to mop the floor with the recommended products. Test any new cleaners in an inconspicuous area to ensure that they will not harm the floor. For floors that should be waxed and polished, do so by following the instructions on the wax bottle. Improper waxing or polishing can permanently ruin a floor.
Daily cleaning can usually be done by the average person with some free time. When more complex situations like cleaning carpets present themselves, consider using a professional. This saves time and ensures the proper technique, equipment, and supplies are used. Money is saved because costly repair or replacement of an item due to cleaning error is never necessary.