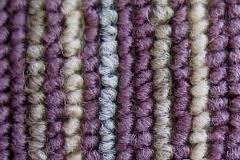 Commercial cleaning companies are switching to eco-friendly cleaning products for hard surfaces like windows, desktops, and bathroom sinks and toilets. Many of them are now, or will soon be, taking the same approach when it comes to cleaning carpets. The process of cleaning a carpet with a non-toxic, biodegradable cleaning agent that leaves behind no residue is called zero res cleaning. The green trend has finally reached one of the most popular commercial cleaning tasks.
When traditional methods are used to clean carpets, toxins remain where human feet tread. These substances can be harmful to humans, pets, and the environment. Shampooing a carpet leaves behind chemicals from the cleaning agent. These adhere to carpet threads, attracting dirt, and this residue may come in contact with skin.
The dry extraction method of cleaning carpets leaves behind chemicals even after the carpet is vacuumed several times. White powder chemical deposits often make their way to the carpet surface, creating an eyesore as well as potential harm for people and pets. In a commercial environment, these clumps are particularly an issue because they can make carpet appear dirty, even though it has just been cleaned.
The steam extraction method of carpet cleaning is a zero res approach that is good for both the carpet and those who walk upon it. A machine injects specially formulated cleaning agents and steam deep into carpet fibers. This combination breaks down dust, dirt, allergens, and pollutants present in the fibers. These are then sucked up through the vacuum area of the machine, preventing the debris from escaping into the air and redepositing itself on the carpet. This cleaning method also removes the odors, stains, and dust mites so common in commercial environments.
Since the cleaning agents used in this process are non-toxic and biodegradable, there is no harsh chemical residue. Building residents and visitors can tread across the carpet without fearing any harmful deposits on their skin. A carpet subjected to zero res cleaning dries faster than it would under other cleaning methods, resulting in minimal traffic re-routing time in these public places.
Facilities managers should inquire whether their commercial cleaner uses the zero res method of cleaning carpets. If not, they should encourage the vendor to do so. This practice holds health benefits for cleaning professionals as well as visitors and occupants of the building. It also benefits the environment, a precious component of our irreplaceable ecosystem.