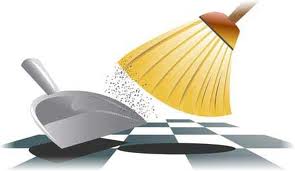 Spring cleaning is a common chore and by March, many people have amassed an impressive inventory of cleaning products in preparation for the big event. However, there is no reason to wait until spring to do major cleaning. We can do it now when the weather is cold and we are stuck indoors. When spring arrives, we can enjoy the beautiful weather up close, rather than through a window being cleaned.
During winter, we track snow and salt into the home, the fireplace blasts ashes, and the heater is in overdrive, leading dust and debris to swirl around indoors with no escape. A thorough winter cleaning makes the home healthier and gives us a break from the typical routine of watching television or reading. With a practical cleaning plan in place, the house will be ship-shape in no time.
Cleaning or changing the furnace filter monthly improves energy efficiency and indoor air quality. While addressing the filter, assess the cleanliness of the furnace. Vacuum up dust bunnies, wipe off grime, and dust the surface with a clean cloth. Consider having a professional clean the air ducts to improve furnace efficiency and reduce airborne allergens, germs, and dust.
When salt water melts, it creates a white sheen on hardwood floors. On snowy days, leave footwear in a boot tray by the door. Mop hardwood floors according to the manufacturer instructions. If your finished hardwoods are old, a mopping with warm water followed by drying with a clean towel is sufficient. Carpet cleaning is also necessary because salt gets trapped in carpet fibers. The dirtiest carpets may require steam carpet cleaning.
Indoor air is dry and warm during winter, creating a lot of dust. Regularly dust indoor surfaces completely and do not neglect window frames or ceiling fan blades. Dusting light fixtures can brighten the indoor environment, which has a positive psychological effect. The same holds true with cleaning windows, which may have accumulated soot due to burning candles or using the fireplace. Use commercial window cleaning products or combine vinegar and water for a homemade cleaner.
Walls and ceilings accumulate dust and dirt and the kitchen ceiling may have a film due to cooking fumes, smoke, and moisture. Add a few drops of gentle dish soap to a bucket and fill it with warm water. Use a clean cloth or sponge to wipe the walls and ceiling with a small amount of this solution, stopping if any streaking or discoloration occurs.