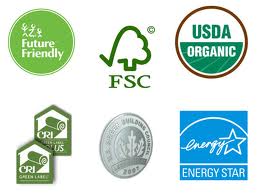 Many contractors that provide janitorial services for U.S. commercial buildings already engage in green cleaning practices. In the past, they used any environmentally friendly cleaning products. This seems to be changing, based on research recently conducted by Contracting Profits. Janitorial services contractors are now favoring products that feature third-party green certifications like EcoLogo, Design for the Environment, and Green Seal.
The survey revealed a 21 percent increase within two years in the number of green cleaning contractors using green-certified products. Building managers who contract with green cleaners should inquire whether these products are being used. If not, they should request them because these cleaning solutions are just as effective as traditional products and are now competitively priced. The most popular green-cleaning products used by survey respondents were multi-surface, glass, and restroom cleaners.
Green-certified products feature many benefits like reduced natural resource consumption and environmental impact, more satisfied janitorial staff and building occupants, and a healthier work environment. Insurance and liability risks may be reduced and cost savings have now become a reality. According to green consulting firm The Askin Group, all-purpose green cleaners in particular feature pricing and performance that rivals traditional products.
As short as five years ago, janitorial services contractors had a difficult time locating products that were certified green. Today, it is common for each one to have approximately three different suppliers offering a line of green-certified cleaners, according to The Askin Group. National contractors agree with this statement, saying they have found green chemicals as economical and effective as non-green products, whether they are using them to clean carpets, restrooms, or general surfaces.
Many janitorial contractors only use products that are green-certified because these are required for LEED green building compliance through the U.S. Green Building Council. They look for the EcoLogo and Green Seal certifications required by LEED. Others integrate green-certified cleaners to their supply chain whenever possible. Many began doing so after realizing that the results were comparable to those provided by traditional cleaning solutions.
Green cleaning products are not limited to chemicals for carpet and hard surface care. Paper products and vacuums are also certified green and are being used by more janitorial contractors. Building managers should become educated regarding these products and ensure that their cleaning contractors are using them whenever possible. The resulting healthier workplace that is kept clean without harming the environment is something everyone can take pride in everyday.