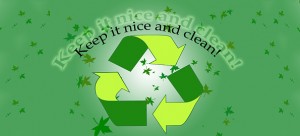 Cubicles become the home away from home for many office workers. Maintaining a clean cubicle keeps the office looking nice, presents a professional appearance, and helps the inhabitant stay organized. Though there are many ways to keep a cubicle clean, not all of them are eco-friendly. Here are some green tips to keep the cubicle tidy, making every workday more productive.
Rather than wasting time traveling to office recycling bins throughout the day, establish a cubicle recycling station. The convenience of this area provides more incentive to recycle paper, bottles, and cans. Recyclable clutter can be immediately removed from the workspace and stored under the desk until the end of the day. Some cleaning services even pick up recyclables directly from cubicles, saving workers the trip.
Keyboards become dusty and dirty from repeated use. Compressed air is not an eco-friendly cleaning solution. Use a rag or a small brush to clean the keyboard instead. The planet will thank you for using this greener method of cleaning. To make other cubicle surfaces sparkle, make green cleaning products and bring them to work. You can find recipes for wood polish, surface cleaner, and even glass cleaner (if you are lucky enough to have a window in your cube).
Cubicles attract dust, especially when they contain an assortment of electronics. Rather than using an energy-inefficient vacuum to remove dust, choose a feather or static duster. These reusable tools are just as effective as any cleaning equipment powered by electricity. Microfiber cloths are also great weapons in the war on dust and when wet, they remove dirt from various surfaces.
Some companies are smart enough to hire cleaning services that perform eco-friendly cleaning. However, the cubicle may need some attention in between their visits. Practicing methods like those above keeps the work area clean without sucking up energy or using products that harm the environment. Ask cleaning workers about other environmentally friendly cleaning practices, including those that can be used at home.
Though the effort of just one person makes a difference, more impact can be made if the entire office is more environmentally conscious when cleaning. Get other workers in on the green cleaning process for their cubicles by leaving a kit of green cleaning products in a common area for them to try. Make things fun by creating contests to see who can recycle the most or develop the most unique eco-friendly cleaning practice.