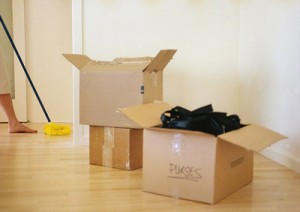 Moving is an exciting event and the moving to-do list is usually long. One thing many people do not consider prior to moving into an apartment or house is cleaning. The interior space may appear to be thoroughly cleaned but looks can be deceiving. Not everyone has one of the local cleaning services do a comprehensive cleaning before they leave.
A casual surface cleaning does not tackle buildup, dirt, mold, or mildew. Since it is usually difficult to determine how clean your new home really is, it is wise to clean it before moving in your belongings. If cleaning before the move is not possible, it can still take place afterward as long as you have some help moving furniture and other heavy items. Giving the residence a top-to-bottom cleaning makes everything as sanitary as possible.
The kitchen is one of the most important spots to clean because this is where food, dishes, cups, and utensils are kept. Use disinfectant cleaning products or an all-purpose cleaner to clean shelves, cabinets, and drawers. Wipe cabinet doors and counters and mop the floor. Scrub the sink and if appliances like the refrigerator, dishwasher, microwave, and oven have not been cleaned, do so before using them. Once cleaning is complete, begin moving the pots, pans, serveware, and food into the kitchen. Plates, cups, utensils, and cookware may need to be washed to remove dust or newspaper markings.
Bathrooms are next on the list, requiring a thorough tub and shower scrubbing, toilet and sink cleaning, and floor mopping. To remove bacteria and germs, disinfectant cleaning products should be used whenever possible. Remove tile grout mildew using bleach and rinse the area thoroughly. After cleaning, move in the bathroom supplies and hang the shower curtain, if necessary.
It is normal for the previous occupant or landlord to have the carpets professionally cleaned prior to move-in. In this case, only a carpet vacuuming will be necessary. However, if carpets do not appear clean, contact one of the cleaning services that specializes in carpet cleaning or rent a carpet shampooer to clean the carpets throughout the home.
To make the residence really sparkle, use glass cleaner to clean all the windows and wipe down the walls using a rag dipped in soapy water. Test the walls in an inconspicuous spot before cleaning the entire surface. Spots and dirt can accumulate on walls over the years so cleaning them can make a room look brighter.