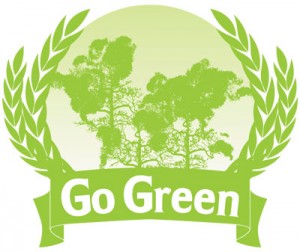 Everyone seems to be jumping on the environmental bandwagon, making efforts to preserve the planet for future generations. Some of our daily practices are so ingrained that we do not consider different ways of doing them. Office cleaning companies have begun using eco-friendly cleaning products but there are also plenty of things office workers can do to make their workplace greener.
Each year, the average American office worker consumes 10,000 sheets of copier paper. Think about how many times you print or copy documents during the day and it is not difficult to see how we arrive at that number. By performing dual-sided printing and copying, workers save one sheet of paper for every two sides used. When documents are in the draft stage, using only black and white printing saves ink.
The non-printed side of old documents can be used to create drafts or faxes and it even serves as scrap paper. When workers are not recording their best ideas on this paper, they are often using their computers. The computer is excellent from a productivity standpoint but it is an energy hog. Each year, this equipment unnecessarily wastes $1 billion in electricity. When workers leave the office each day, they should turn off their computers and during short breaks throughout the workday, they should set the computer to enter sleep mode.
Purchasing carpet, paint, and furniture that do not contain volatile organic compounds ensures that these do not release toxic chemicals into the work environment. The individual who contracts with the office cleaning company has a big responsibility. This person must make sure that cleaners use only biodegradable and non-toxic cleaning products.
Some companies supply workers with disposable utensils, cups, and plates. This practice should be eliminated and employees should be encouraged to bring their own reusable containers, drink ware, and utensils. In the workplace kitchen and bathroom, only cloth towels or paper towels made from recycled paper to should be available to dry hands washed with biodegradable soaps.
When a company commits to being more eco-friendly, it should expect the same of its vendors. Dealing with suppliers of recycled paper, VOC-free furniture and equipment, and cleaners who use only eco-friendly products can go a long way. Even the equipment used by certain vendors can be selected with the environment in mind, such as HEPA vacuums and microfiber systems. Workers should be forced to put their health at risk just because their employer is not environmentally-conscious when selecting a vendor.