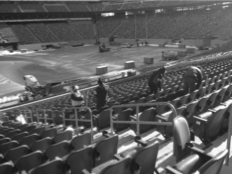 Back in November, we had a supervisor training session in which we were taught everything in which we would need to know about what snow removal at the MetLife stadium would entail and how the job would be broken down and the steps we would need to take. I had done pre-planning and had emailed 300 people and even called a select few to let them know they would be on call for the job. But I had no idea the job would be so intense and all the planning would have to occur with such short notice. On Monday night, 15 minutes before 5:00 pm, we received a call from Jennifer, the assistant to the VP of snow removal from MetLife stadium that we were needed on Wednesday morning for snow removal. After looking at the clock and seeing it was 8:30pm Nathali, Greg, Annette, Franceshy and I, called it a night after just calling 300 people for snow removal. By 12:00pm Tuesday, all the buses were organized and we had a confirmed number of about 130 people ready for snow removal. But around 3:00pm we received an email; that even though we had called over 100 people they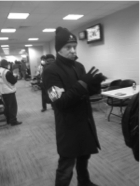 would only need 50 for the job, due to pretreatment and light snow. This would not work! I could hear the riot that would ensue, Greg and I told them no and they agreed, we could bring 100 people. Finally, Wednesday arrives, I had to wake up at 5:30am and mentally prepare for all the people I was going to have to deal with today. I got to the office around 7:00 am and quickly Joseph started to gather the supervisors, as people were already waiting outside. There were 3 huge buses in front of 1123 Broadway and a crazy crowd was organizing around them. Once on the buses madness started to erupt as we started distributing hats, collecting the W-9s and taking a headcount, there were 88 people in total including Joseph, Mike, Julio, Albert, Greg and myself. When we got to the stadium all I can say is Thank God for brave men and women, shoveling snow.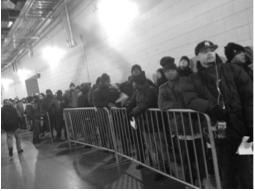 They separated everyone into groups of 25 and everyone got down and dirty in the snow, even Greg! What a leader! As they shoveled, I made my way downstairs to the command station. While sitting I overheard the VP of snow removal say, "Let's keep Busy Bee. I've heard such great things!" After 4 hours of hard work, we checked out and made our way back to the buses; even though some had lost their phones and book bags, overall the day was a success. Sitting at my desk, in the warmth of the office I stared at my computer for a few minutes and let myself have a well-earned 5 minutes to let myself relax after a long day. The stadium was clean, and even though we were going back Saturday I knew I wasn't. And with that, a smile stretched across my face and I went back to work and thought about the donut I would treat myself to after work was over.