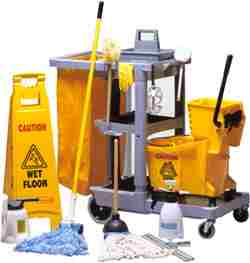 If you work in a commercial office building, one of the local cleaning services probably cleans your company's space. Some building management companies hire the same service to do all the building maintenance and include the charge in the rent paid by commercial tenants. Whatever the case, the cleaners usually only provide your personal office with a dusting and vacuuming- the rest is up to you.
Cleaning out your office makes it easier for cleaning services workers to do their job. It also helps you be more productive because you do not waste time searching for papers, folders, or supplies. Everything is stored neatly in its designated spot, not strewn all over the desktop and on shelves. Cleaning workers can enter the room and dust your desk each night without needing to move papers.
Filing systems can easily become cluttered with documents and articles that though interesting, are not useful. Regular purging keeps files a manageable size and prevents the need for additional cabinets. Every folder should be reviewed for relevancy. Old client files and other obsolete information should be archived or shredded. Outdated or unneeded information should be purged from the files being kept.
Take a supply inventory to verify that all items are needed and are in good shape. Anything that is broken and cannot be repaired should be discarded. Ripped or bend folders with old labels deserve to be replaced. When re-doing labels, the naming system should be clear and concise, including the large category and a descriptor, like utilities: electric.
Binders take up a lot of space on bookshelves and in credenzas. Go through each one and make sure the information is still needed. If enough unneeded contents are removed, a smaller binder can be used. Any binders that are no longer needed should be offered to co-workers in an attempt to recycle them. Along the same lines, training manuals from ten years ago are likely no longer relevant and should be recycled or discarded.
Cleaning up all loose piles of paper makes the office look more professional. Needed documents should be filed and others can be shredded. Downsizing the binder supply should free up some space on shelves to store books and binders that have been stashed in drawers. As many surfaces should be cleared as possible. This way, cleaning workers will not spend the majority of their time trying to clean your office and can move on to their other building maintenance duties.